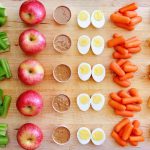 Hi all- Molly again. I decided to write this because I'm not sure if it's just me, but I get unusually excited to go get groceries at Trader Joe's, and I've kind of become a pro at picking out the best items on the shelves. Being 22 in New York is what I like to call, "ballin' on a budget," making Trader Joe's the perfect place to pick up my groceries since I am terrible at cooking and they have plenty of easy things to whip up at super reasonable prices. Here are my go-to items if you're looking to stay healthy (sans breaking the bank), without having to do any serious cooking after a long day.
Trader Joe's creamy salted almond butter- This one is self-explanatory. I put almond butter on anything and everything for a snack- rice cakes, apples, bananas, waffles, english muffins, (you get the point).
Trader Joe's chili lime frozen chicken burgers and frozen turkey burgers- Me and my roomies swear by these. I mean we literally make them every night. Cook one on a pan and throw a little cholula on it and you're in business.
Broccoli and cauliflower- If you're like me, then you have to buy a lot of veggies frozen because any other option goes bad before I get the chance to finish it. Not ideal, but super easy to prepare and still tastes yummy!
Cauliflower rice- I just hopped on this cauliflower rice train. I make a little bowl with the cauliflower rice, my turkey burger, and some avocado and that pretty much sums up my dinner 4 nights a week.
Frozen packs of TJ's brown rice- On the flip side, if you want a grain go for the frozen brown rice. It comes in individual portions and I make half for dinner and bring the other half to work for lunch the next day. You can pretty much eat this rice with anything and it's filling and delicious.
Dark chocolate caramels- Honestly, I want to say for you to not even tempt yourself and buy these. They are SO good. I tried them years ago and now there's no turning back. They're in a square plastic container in the racks above the frozen food sections. Don't say I didn't warn you.
Peanut butter filled pretzels- Nom nom nom. These are hard to put down and dangerously addicting.
TJ's greek yogurt- My top flavors include vanilla, raspberry and pomegranate.
Trader Joe's granola with flax and chia seeds- This comes in a big bag for about $3 I think. I put it in my oatmeal, yogurt and overnight oats, etc.
Cinnamon and spice oatmeal- This stuff is amazing. Oatmeal is always my go-to for breakfast and honestly lunch too when I'm in a hurry. I either make this stuff hot with some granola and fresh berries or I put it in a mason jar with some almond milk to have overnight oats in the morning. I highly recommend this for all occasions.