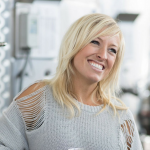 Angela Allison is the co-founder and CEO of WineSociety, a company that makes cork-free, premium wine. Angela and her co-founder (as well as husband) have shown that wine doesn't have to be complex… or come in a bottle. Using her degree in design, and inspiration from her own minimalistic lifestyle, Angela has managed to create a truly unique product, with impeccable branding–all in less than a year's time. Wondering how this boss ends her busy day? Find it all below.
6:30 P.M. Finish up work (emails/prep for next day) with a glass of vino. Then, I do my Instagram post of the day and catch up on other social media.
7 P.M. Dinner. With the new biz, I haven't had the time to plan meals and cook as often as I would like to (as an artist I love gourmet cooking and as a fitness guru it also needs to be healthy!). My goal is to get back into cooking this summer. It is therapeutic for me and I enjoy doing it for my husband. Glass of wine, music and fresh meat/fish & produce = great night. We have been using Hello Fresh , once or twice a month, depending on our travel schedule. But mostly we have been eating out or getting Uber Eats a lot more lately. Our most frequented spot is Local Kitchen & Wine Merchant  in San Francisco (right next to our condo–so convenient and good!). And, our most common Uber Eats order is grilled Steelhead and veggies from Mixt. Austin and I always share meals (one side of veggies or an app and one entree)–portion control!
8:30 P.M. My standard routine: brush teeth, then wash face–I have been using a combo of MURAD exfoliating cleanser  & Glossier Milk Jelly Cleanser..ooh and I just got the FOREO Luna fofo from my fab fit fun box (best gift ever) and am loving it–my skin feels so smooth! Then, I apply SHISEIDO Benefiance wrinkle resist24 eye cream, Vintners Daughter Active Botanical Serum, and Goop Replenishing Night Cream. My facial expressions are BIG so I need the extra benefits of these products to tame my expression lines.
9 P.M. Much needed relaxation time with my hubby and our dog Paris for an episode or two of Billions… so addicting! Before we settle down, I put on LANEIGE Lip Sleeping Mask (also put on my husband–no one should have dry lips). I start my VITRUVI Essential oil diffuser, one of the best purchases I have made. I love aromatherapy and it helps me relax at the end of the day. Lavender & Eucalyptus are my favorite scents at the moment.
10 P.M. If I don't fall asleep during the movie/show, I typically play a 15-minute Headspace (Meditation App) which is the only thing that works to clear my mind…and before I know it, I am fast asleep. And I always have water by my bedside.