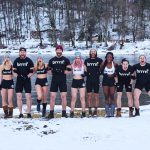 We've all thought about starting a business, at one time or another. Nowadays, it seems easier than ever to follow your dreams–to make a complete fissure in your career path, and stand at the helm of a startup. But what does it really take to start a successful business? We turned to Jimmy Martin, co-founder of Brrrn, our new favorite workout studio in Flatiron, for an answer. Just a few steps away from Newsette HQ, Brrrn is the world's first cool temperature (45°F-60°F) boutique fitness concept and lifestyle brand. Newsette HQ and our Newsette Network took a class at this beautiful location (trust us, it's a winter wonderland), and have been hooked ever since. Below, Jimmy tells us about his journey to starting NYC's trendiest new studio with his co-founder Johnny, including what it truly takes to start your own company.
Finding the right co-founder is often a huge hurdle for someone wanting to start a business. How did you both connect, and eventually decide to start Brrrn?
We couldn't agree more. Johnny and I met at a private training studio in SoHo in early 2014. There's something to be said about people's energies aligning, and I could sense something special about him. Maybe it's because we're both private trainers with non-private trainer interests or the fact that we both did musical theatre in high school. But whatever it was, it was something not to be overlooked.
What is the biggest obstacle you've faced in starting your company?
We both wear many hats in this process, so I guess the biggest obstacle was getting used to having terrible hat head in the first couple of months. We were given a tremendous opportunity to create something from nothing and that stress can definitely take a toll on you, especially when you are offering an experience that you hope the market will react positively to. But like any artist who writes, directs, produces and stars in their own project, we knew the best way to share our vision with the world was to find the right team to surround ourselves with. And, to be honest, we both couldn't be happier with the "coldture" that we've procured here at Brrrn.
Can you tell us about the benefits of working out in colder temperatures?
Firstly, we believe that it optimizes the fitness experience. In terms of the science, research suggests that exposure to cooler temperatures between 40-64 Fahrenheit (known as mild cold stress) burns fat, more calories, and increases your tolerance to colder temperatures.
What careers did you both have before starting Brrrn? When was the point when you decided to make a pivot in your career path?
Johnny had been working as a public health official for former New York Mayor Michael Bloomberg and was moonlighting as the fitness and wellness critic for the Daily Beast, as well as working as a private trainer/yoga instructor in the city. I was working as a private trainer and a freelance copywriter writing jokes for ad campaigns while actively auditioning for commercials, performing improv in the city and doing background work on SNL. I think we both were getting worn down from the multi-hyphenate lifestyle. But what really comes to mind as the inciting incident that prompted Brrrn into existence was losing my wife to cancer at 29 in May of 2014. That changed everything for me, specifically how I viewed health and wellness. We both got lucky with meeting each other at a point of our lives that we both really needed each other. And Brrrn is here as a result of that.
What is your dream for Brrrn in the next 5 years? The next 10 years?
Honestly, I think it's best to not have any expectations. The dream came true when we were given the opportunity to create our flagship location. Sure, we'd love to be an international lifestyle brand that could offer a variety of modalities in a cool temperature workout environment. But beyond the brick and mortar model, we're also developing avenues to commoditize our brand in a way that helps people keep their cool year-round in the comfort of their own homes.
From idea to the store opening, how long did it take for Brrrn to get up and running?
The idea was conceived in 2013 and we had begun executing it late 2014. So close to 5 years.
What has been your favorite part of this process?
Both Johnny and I have really enjoyed watching this whole process come to life. We view this very much like theater. You have the idea, then a script is created. Then it's drafted. Then you cast your talent. Rehearse. Make changes, workshop the show. Drink way too much coffee. Then share it with the world with the hopes that people will enjoy it. And luckily, we've been able to experience that with Brrrn.

What are three attributes you believe a founder needs to have to succeed?
I think there are more than just three attributes that a founder needs–but if we were to limit it to three, we would say: Creativity, Persistence and Adaptability.
Your brand was recently featured on LIVE with Kelly and Ryan. Did that placement result in a huge spike in growth? If not, what has been your most successful marketing strategy/media placement to date?
We've been extremely fortunate with the amount of press we've received, being a brand-new concept that's close to four months old. Sure, the nationally-televised spots on GMA and LIVE with Kelly and Ryan have given us international visibility, but more importantly, the bigger ROI has been the amount of support that we've received from people who really believe in the movement that we are leading. It's been a truly humbling feeling to read emails from people wanting our concept to come to their city— both in the U.S. and across the globe. We are hopeful that we can extend our reach to as many people as possible.
What is your straightforward advice to a millennial wanting to start their own business–what is a hard truth that is often not talked about, but that someone should know before diving headfirst into a new venture?
Create a game plan and follow through. A good idea only becomes great through execution. There are many people who talk about doing something but it is those who walk their talk that actually take it from conception to completion. So put yourself out there. Make mistakes and don't be time sensitive with your success. Failure is in the lack of attempt, not the lack of recognition.
Oh! And make sure to get sleep and whiten your teeth. You'll be drinking lots of coffee throughout this process.
Want to try Brrrn for yourself? Click here to sign up for a class now.