Sep. 17 2019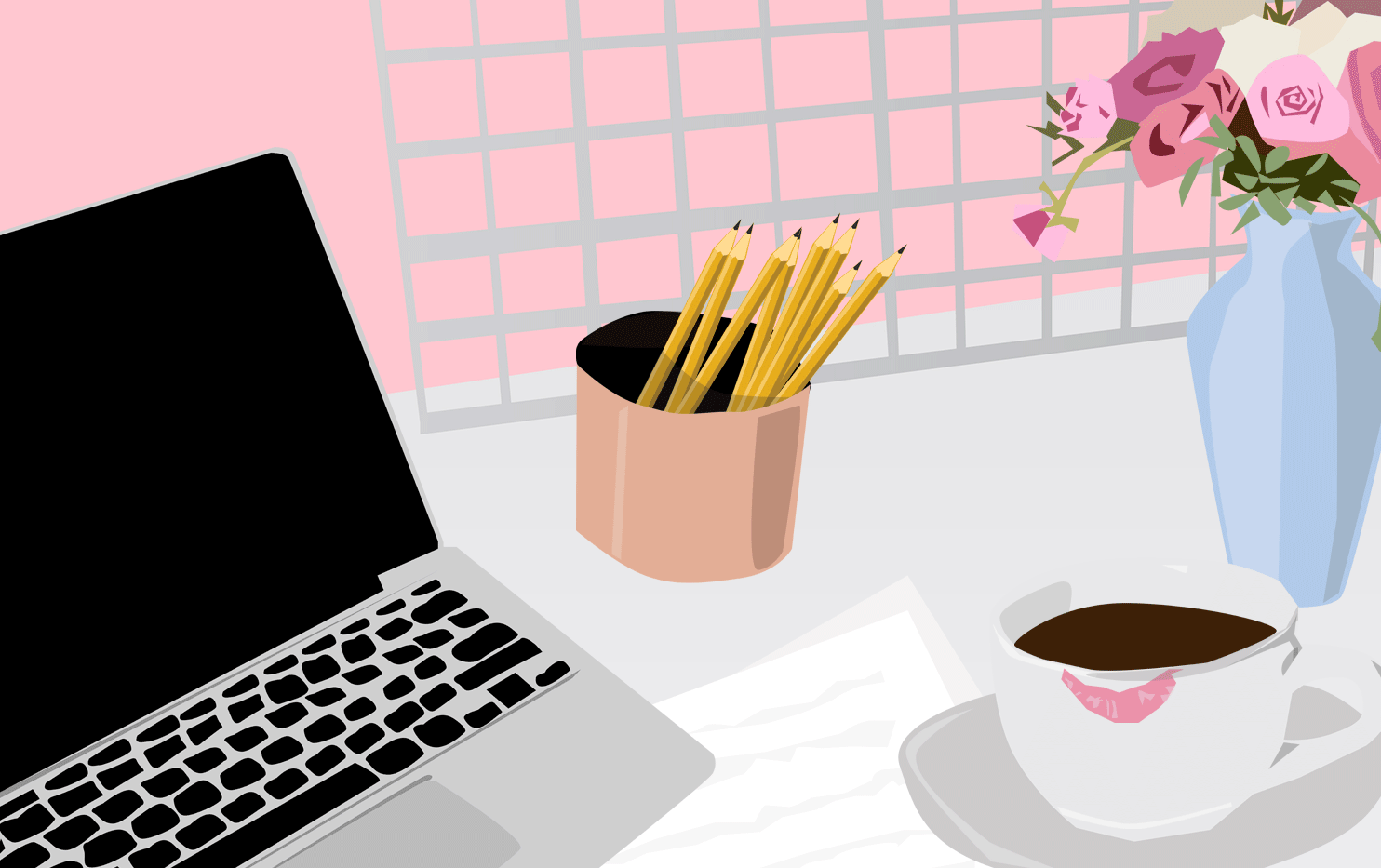 ---
Have you ever wondered what your friends do for work? We're not talking about the description in their LinkedIn bio, but what they actually do in their 9-5. As part of our mission to bring you more girl boss content, we're investigating job titles to get the low-down on exactly what they really entail. Curious to know what being an account executive even means? Wondering what a VP in finance does in the afternoon? We're creating more transparency around different jobs, and the salaries and duties that come with them, to help you figure out what you're interested in. Today, read how a Senior Fashion Designer working in NYC spends her work day.
Age: 36
City: NYC
Industry: Fashion
Job Title: Senior Fashion Designer
Salary: $96,000
What does your job title mean?
As a Senior Designer I report directly to the Design Director or sometimes the VP. My job is to make sure the vision of the Design Director is being carried out for each season. I find inspiration, colors, silhouettes, and fabrics for each season. This involves going to industry trade shows, sample shopping in the US and Europe, and doing a lot of research. I also produce rough sketches of garments or actual CAD (computer aided drawings) I think could work for the collection. I run all of this past the Design Director; and he gives me further direction on what needs to be done and when. I also oversee the Assistant and Associate Designer, who I have assist me in making tech packs for each garment. Tech packs are the instructions to the factory on how to produce each garment down to the kind and size of button they should use. There is little room for error during this process. I make sure everything is accurate, and I review all of the assistant and associate designers' work. I also work hand in hand with technical designers to make sure everything is running smoothly.
What do you do in the morning?
I wake up at 7am. The first thing I do is make my bed, then I brush my teeth. Then I make myself some fresh celery juice, and drink that quickly (it's not the best tasting thing, but apparently it's good for you). After the shake I make a fruit smoothie with coconut water and throw it in my S'well bottle for my 11am snack. Once that is done, I do a quick round of tai-chi for 8 minutes. After that I start getting ready for work. Once I am dressed, I put my headphones in, wiz out the door, and make my way to the subway. I mobile order my Starbucks as soon as I get off the train, and scoop it up quickly, then I get a croissant and some yogurt for breakfast from Prêt-a-Manger, and get into the office around 9:15amish.
At 11am I am…
Drinking my amazing fruit smoothie to hold me over in case the day is hectic and I have to take a late lunch. Then I check in with the more junior designers and make sure they know what their assignments are (which usually consists of CAD work, print designing, or flat sketching). I also will handle any concerns or questions they may have. After that, I am working on the development for the line for the next season. This can be looking for inspiration, colors, interesting fabrics, trims. My company subscribes to a fashion trend service, so I gather a lot of information from there. I also read up on articles pertaining to the retail business, to have an understanding of how the industry is moving. I do not do much on the business end, but I like to keep myself informed as I am required to review the selling performance of our garments with buyers and our Design Director. I am also held accountable for the performance of my category.
What does lunch normally look like for you?
Lunch is usually a quick order through my Ritual app and eating at my desk either while I work or sometimes, browse Pinterest. My co-workers and I piggyback off of each others' orders, and a few people will volunteer to bring the food back to the office. I don't remember the last time I took a full hour, or went out to lunch. This is kind of the NY fashion culture when you work for a fast-paced company. However, during the summer months, I will eat quickly at my desk and take a stroll outside and catch some sun. I do try to relax whenever possible.
At 1pm I am… 
Usually in fittings with our technical director. These fit sessions usually take up about 2 hours. Basically we put every garment in the collection on the model. Then, I make comments to the technical design team on how to improve the fit. These comments are noted down by a technical designer who will also make suggestions and pass this information along to our factories. Then the factories will re-send another sample with the corrections and we again will do the fittings until the sample is acceptable to meet production standards. On average, one garment will have 3 fittings (possibly 4 in rare occurrences if there is a problem).
At 3pm I am… 
Usually at 3pm I am eating at my desk if it's fitting day. If not, I am sending some emails. After that, I make sure to handle any pending requests that are due that day. I also will check in with the assistant and associate designers to make sure they are up to speed on their projects and making deadlines. Then I check in either via email or face-to-face with the Design Director to make sure we are on track and inform him of the progress.
At 5pm I am… 
Usually very busy handling last minute requests. On days when we have meetings with buyers, I am working with the assistant and associate designers on handling CAD work, and other requests the buyer may have, which usually must be submitted the same day. If I am not doing that I am making sure any development packages that need to be sent to China are being completed before the FedEx guy comes at 6pm.
How does a workday end for you?
That can vary. The New York fashion industry is very fast-paced and hectic if you work for a bigger company, as I do. Because we produce all of our garments in China, the time difference can make production deadlines tight. My official hours are from 9:30am to 6:30pm but there have been plenty of nights where I have gone in at 8:00am or left at 9:30pm. I would say this happens more often before we have meetings to present a line to buyers or tight production deadlines. It is definitely a position that takes dedication and discipline.
What do you do after work?
On normal days when I leave the office on time, I love to do yoga after work to relax. There is free yoga in my office building, which is pretty convenient. Sometimes I meet my boyfriend for a bite and some drinks in the village. Or if I just go home, I make dinner, and relax with some Netflix. On Fridays I like to explore the city a bit. So if I get off early or on time, I go to the MoMA, or check out events I find in Time Out New York Magazine.
What time do you go to bed? 
Bedtime is from 10:30pm to 11:30pm, depending on what time I get out of work. On normal days, I like to be in bed by 10:30pm. I like to have a snack after dinner about 1 1/2 hours before bed, that is usually a yogurt, or one cookie and some water. Then, around 9:00pm, I take a shower and I start my skincare routine, which can be a charcoal mask, or a daily hydrating mask from Fresh that I love. I also use this time to clean up my nails, and hydrate my hands. After that I always meditate for at least 20 minutes with some guided meditation or in silence. I find this is a way to really relax me after a stressful day and it prepares my body for blissful sleep. After that I hug my boyfriend and we go to sleep.
Is there anything about your job you'd like people to know?
One thing I would like people to know is that while being a designer in New York is exciting and glamorous, it can also be quite stressful. For some reason, the industry seems to be a bit on the calmer side in other cities, so it's food for thought if you make the move to New York. Make sure you always keep your life balanced. Especially during Fashion Week, or when a line is being prepared to be presented to buyers. There are a lot of late nights and nonstop work days, where sometimes you have to work and eat lunch at the same time. Lastly, the fashion industry in New York is not well paid in the beginning if you choose to be a fashion designer. New York can be expensive, so learning how to budget early in your career is a must. If you hang in there, it gets better when you reach a more senior level. I would tell anyone that is considering this field that it requires a lot of discipline and hard work. So make sure you are doing this because you love it, and it will all pay off. When I see the garments I created in the stores, on women on the street, or in magazines, I always feel a sense of achievement and pride.
Want to submit your day-to-day job duties? Fill out the "What She Does" anonymous form here.