Mar. 13 2020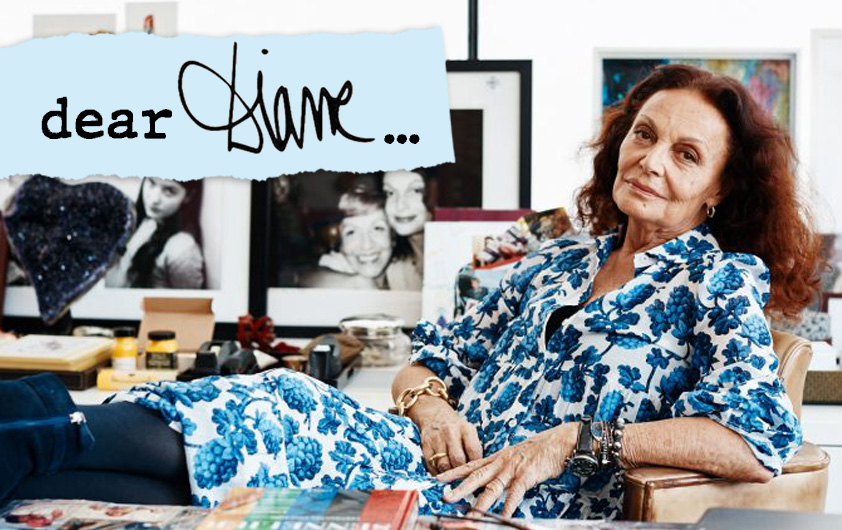 She's a style icon who created the famous "wrap dress," a successful immigrant who employs legions of American women, and a female empowerment legend who's been at the helm of her own business since 1972. (She's also a former princess by marriage, a historic muse to Andy Warhol, and a two-time Gossip Girl guest star.) Now Diane von Furstenberg is your personal relationships guru, giving advice to Newsette readers and Bumble members to help them stay InCharge of their own unique paths. 
Dear Diane, What's a good first date outfit for someone in her 30s?
Wear a cute little dress or cute pants with a cute little top. If it's cold, wear sheer tights with the dress. Make sure you always look effortless, like it took very little time for you to get ready.
Dear Diane, how do I deal with insecurity when one of my boyfriend's family members wants him to be with someone else?
See what he does, and then judge his character. 
Dear Diane, what should I do when the guy I like doesn't text me back?
Be funny and say, "Are you not texting me back because you want me to insist, or because you're not interested?" 
Dear Diane, I was dumped out of nowhere… One day he wanted to meet my parents and the next he said I wasn't the right fit. What should I do?
Drop it. Thank him and then drop it. Thank him and count your blessings. 
Dear Diane, what's your advice on self-love?
The most important relationship in life is the one you have with yourself. Once you have that, everything else is a plus, but not a must. And you never want to be needy. 
Dear Diane, how can we as women better empower ourselves?
By being true to ourselves and embracing who we are. 
Dear Diane, where do you find inspiration?
I find inspiration by loving life and being grateful, and I also find it in nature … I love to hike and even read about nature.  
Dear Diane, how did you build your trusted tribe?
By paying attention to the people around me. 
Dear Diane, how do I network professionally without seeming like I want something? I need help finding my career, and something inside me doesn't want to ask people to use their connections for me.
Ask for an introduction with kindness and grace. Do not be scared, as usually, well-connected people love to introduce friends to those who are like-minded and interesting. Do not be scared!