Mar. 20 2020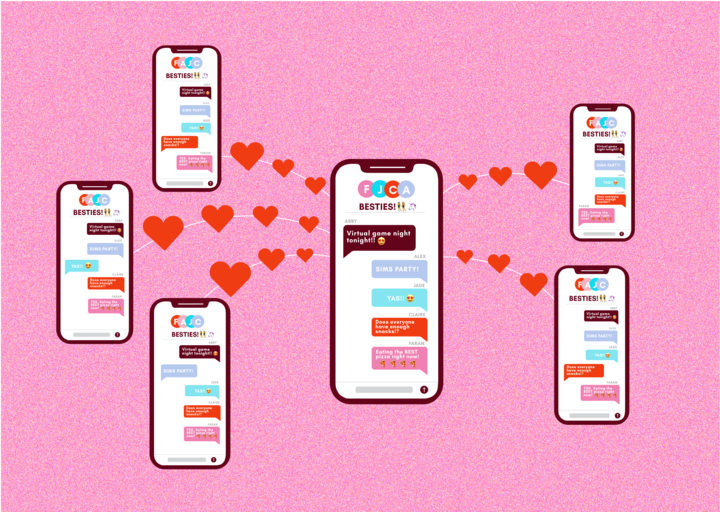 There's nothing better than someone who gets you, especially when the world seems turned upside-down. But how can we maintain friendship and connection at a time when social distancing is the mandate—and support from friends is more important than ever?s time to give a Cher Horowitz-worthy makeover to The Friend Date, that time-honored adventure used to forge new connections, strengthen old bonds, and laugh like hell. In partnership with Bumble BFF, we've created a modified guide for incredible quality time with your friends, even if you've got to be physically apart… because a phone call is fine, but when it comes to your friends, why settle for less than amazing?
If you're FFH—Friending From Home…
Make a standing date. We've heard it a lot this week: routines keep us sane. Why not add one you really look forward to, i.e. a 9 pm check-in with your bestie?

Live(stream) boldly. Read someone's tarot cards on FaceTime. Have an Iron Chef competition over Google Hangouts. (Secret ingredient: beans.) Try a makeup tutorial where your friend finally shows you the fishtail braids you want to do. And obviously, karaoke via Zoom is a mandatory Friday night activity. (DM us the videos. We'll put them on social.)

Have a spa party. Share the self-care with Face Mask Friday, group yoga online, or even a mantra chant if one of your friends keeps talking about her spiritual retreat to Tulum. (We know, Caitlin, it changed you.)

If your best friend gets a romantic partner…

Don't give into the cliché. My Best Friend's Wedding is a great rom-com for day seven of "social distancing," but as a guide to life, it's kind of terrible… even though Cameron Diaz's karaoke scene is comedy gold. Despite the movie's premise, your best friend can totally fall in love and still deeply love you, according to both experts and personal experience from every single person at Newsette HQ. And believe us, right now, she wants to talk to you.

Make a plan. "As long as you make the effort to plan time together, your friendship will survive," says therapist Susan Hepburn, which means (again) build each other into your new routines with a standing phone or FaceTime date.

Take her with you. Try to take a long walk outside with her on the phone, which means you get much-needed time in the sun while hearing about her daily dramas. Play I Spy where you spot the weirdest stuff out your respective windows. You can even challenge her to a toilet paper hunt through your respective local grocery stores. (Yes, you will get distracted at the Ben & Jerry's section. Yes, this is the whole point.)

If you're "asking out" a new friend…

Make the first move. If you're lucky enough to be healthy, these weeks of self-isolation are a bit like the first semester of college: everyone wants to hang out. And thanks to Bumble BFF, it's never been easier to broaden your social circle in the city. Take the initiative to get swiping and say "hi."

Watch what happens. In most situations, "want coffee?" are two magic words for a possible pal—For now, you can adapt the idea to a digital format by joining Netflix's Watch Party, a Google Chrome extension that lets you watch a movie simultaneously, even from separate couches.

Be a gamer. Pull out a chess or Boggle board, turn the camera on the action, and have an old-school game night over a new format like Zoom.

If you're reconnecting with a past BFF…

Be brave. Like your hair without deep conditioner, former friendships can get tangled. But if you're missing a dear BFF from the past, repurpose some advice from our relationships guru Diane von Furstenberg. Ask to hang out or catch up via phone "with kindness and grace, and do not be scared!" Chances are, she misses you, too—and there's no better time to reach out to loved ones than right now.

Make it easy. Keep it simple, like a ten minute chat while you each sip tea from your couches.

Text after. Follow up with a rainbow emoji because just like whatever random thing you had a fight about, this storm will soon be over.