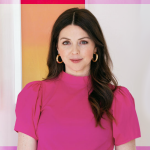 She's so into hue. Tanya Taylor is an indie fashion designer whose work has been seen on Beyoncé, Mindy Kaling, and Taylor Swift, thanks partly to her gleeful use of bright colors, and partly because she's just cool. The Toronto native got her style start by interning for Ashley and Mary-Kate Olsen at their label, Elizabeth and James; she was one of the first New York Fashion Week designers to make her label size-inclusive, and she spent the cash she'd saved for her annual runway show to produce a voting rights PSA instead.

Now Tanya's releasing her latest project, a collab with Pantone called the "Color Therapy Capsule" to promote better well-being through creativity. The line includes tees for adults and children, with 20% of net proceeds going to fund free masks for NYC's public school students. Here's how Tanya recommends injecting color into your wardrobe, telling little kids to wear masks, and finding the difference between "comfortable" and "casual." Spoiler alert: it's usually cashmere.
What's your advice to women who don't think they can wear lots of colors? 
I totally understand the fear of color, but I think baby steps are the way to overcome looking like a rainbow. If you are an all-black or neutral dresser, start by choosing one color that makes you happy and add it to your look—it could be as simple as a great sweater—and see how it makes you feel. If color in clothing is too intimidating to imagine, then liken it to what colors you love in your home, in your floral arrangements, in graphic design. Start introducing those colors slowly and I promise that you will surprise yourself and feel energized by how using color in your wardrobe allows you to play. And remember not all colors are "bright" or "loud." Rich tones and soft tones feel subtle and are a great way to start incorporating color.
How have you noticed a shift in the way women are dressing now? How is that changing your designs?
Women are looking for clothes that either speak to the function they need in their new WFH life or to fantasy that helps them recapture the fun of fashion. We are designing with both purposes in mind, and our ultimate look is when you can mix the two together. Most importantly, whether we're designing a fashion piece or a classic style, we have comfort in mind. But comfort doesn't mean "casual" for us! It means shapes that are versatile [and] fabrics that are soft and easy.
What's a way to be comfortable at home that does not include yoga leggings?
Sweater dresses are my new favorite WFH outfit. I get to wear bold colors and be presentable for zoom but still cozy and comfortable.
It's your job to be creative, but what happens when you wake up and your brain is just fudge? How do you push through when you're tired or anxious?
This is definitely a skill I've focused on this year. Every person has different things that make them feel good, but for me, it's getting out of my head and going for a walk, talking to someone on my team who motivates me, looking at art I have saved on my phone. Making the day feel special in a small way is what I need to get out of a funk.
It's your job to make cool clothes, but also your job to run a business. How do you reconcile what you want to create with what you know will sell?
It is always a balance between art and commerce. Ultimately, I am inspired by the women who wear us, and they are a big part of the design process. A majority of what excites me also excites them. At the end of the day, I need to feel that my name is on clothing I am proud of aesthetically, but also what makes me proud is being able to dress such a diverse range of women. I think it's important to take risks and make exciting emotional collections and inspire your customer to try things—you know, best sellers aren't always predictable!
You're making masks for children now. What's your advice for telling kids to keep their mask on?
I have a three year-old-son and I tell him that a mask is our superhero cape, and if we want to help save the world, then we need to make sure to wear one. It also helps to have fun masks around. We have all of the Tanya Taylor masks in fun prints, as well as some fun Paw Patrol ones—whatever it takes to make it more playful. He also loves matching me, so making it a twinning moment helps!