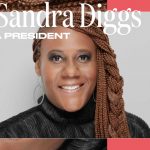 Who's she wearing? That's the question we're always asking about CaSandra Diggs, the CFDA president working with Vera Wang, Diane von Furstenberg, and other household names to advance American fashion. This week, she's focused on the return of an IRL New York Fashion Week (oh, how we missed you), and doing the mental math for how the runway evolves from here.

We spoke with the industry heavyweight about the future of fashion, how she's supporting POC designers, and, most importantly, which brands she keeps on standby.
You were promoted to CFDA president (congrats, BTW!) in the middle of an industry-wide call for Black representation. Did the timing make you feel extra pressure?
Thank you! It is a wonderful opportunity that I do not take for granted. Tom Ford had the vision and the confidence to lead change and not just talk about it. Making a Black woman president of a powerful industry institution increased the pressure for everyone working with me—not just for me. We all want to make sure that the work I am heading for the CFDA is successful.
How is the CFDA supporting POC-owned brands and designers of color?
The CFDA's current actions amplify the BIPOC work it had already [started in] 2013, with its first statement supporting diversity on the runway. Since then, we've collaborated on diversity, equity, and inclusion studies with [the PVH group]. Our most recent study revealed 6 levers of change that we now use as a framework for our IMPACT program to nurture BIPOC talent while also shifting brands' behaviors and practices to bolster equitable representation in the industry. We [also] financially and programmatically support BIPOC-centered organizations like Bethann Hardison's Designers Hub and Brandice Daniel's Harlem's Fashion Row—whether [that's] providing social justice scholarships or Covid grants.
This will be the first official in-person NYFW since the pandemic started. What are you most looking forward to? And what are you wearing?!
I'm excited for NYFW to showcase the buoyancy of American fashion, and I'll be cheering them all on while wearing as many diverse designers as I can, from Fe Noel to Rosario Dawson's Studio 189.
How have your shopping habits changed since 2020?
I've shifted my focus to brands with sustainable and social impact commitments. I've also spent a lot of time working from home, so designer home décor, jewelry, and loungewear have become a big part of my lifestyle.
There's been so much change in the industry recently. Where do you see it heading over the next 5 years?
Fashion—like all other industries—will naturally ebb and flow… Brands will continue to accelerate their investments in sustainability; diversity, equity, and inclusion; and digital platforms. With any luck, the industry will make strides to [better] align with the interests of business sectors… Fashion education will need to complement the needs of fashion employers, and fashion retail will need to complement the needs of fashion brands, and on and on.
What's the biggest misconception about working in fashion?
That fashion is all fantasy! But nothing can be further from the truth. Fashion is a business that generates trillions, donates billions, employs millions, and drives innovation worldwide. It is a business of highly creative people, but it's also an industry of astute business executives.