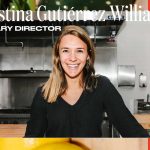 She's making a kale to action. Christina Gutiérrez-Williams is the Director of Culinary Development at Thistle, the plant-based meal delivery company Chrissy Teigen kept on speed dial during her 2nd pregnancy. But when Christina's not cheffing it up for Legend-ary models, she's convincing us to love veggies as much as candy, one bite at a time.

We called up the spinach enthusiast to dish about her role in the food biz, why veggies are underrated, and how she's thinking about climate change.
What drew you to this industry?
I've been obsessed with food from a really young age. My friends were watching Nickelodeon and I was watching The Food Network. [Laughing.] I think part of that [comes from] growing up with a dad who's Cuban and Venezuelan and moving around so much. The joy of moving to new places was getting to experience new cultures through their food. Not to mention, I got to live in some of the greatest culinary capitals of the world like Italy, France, and Peru.
What do you do now?
I oversee everything from culinary, to new product ideation, to recipe writing and recipe testing, to making sure we can scale our meals up. The last part of what my team does is take in feedback from customers. We're constantly using that to improve our menu items, but also to give us ideas of what other meals our customers are interested in. We work very cross-functionally with all sorts of different teams. We love being at the center of it all!
What change would you like to see in the industry?
Delicious, fresh-tasting food is so important, but the other aspects around sustainability and the effect on climate and public health are what really drive me and inspire me now. Our country relies on a heavily processed diet that is not necessarily vegetable- and fruit-heavy. Instead, we should make it so the healthiest foods are the most accessible and affordable, not the unhealthy food, which is currently the norm.
Some of us are so used to that American diet. How can we live healthier without sacrificing our favorite foods?
It doesn't have to be all or nothing. It doesn't have to be giving up cake and a hamburger. It's more about giving yourself the time to indulge and enjoy… That's the point of life, right? As much as I live a plant-forward diet, I can't imagine a world without cheese, and I think that's okay! My approach is [to] incorporate it through a flexitarian diet… making sure you're eating plants at most meals, but not necessarily cutting out everything else all at once.
How has climate change affected your work?
It's really interesting. One example that came up recently was mint. We use a lot of fresh mint in some of our dressings, and [some] crops were completely burnt, dried out, and unusable. That could've been because of the fires in California, or it could just be that things are getting warmer and plants like mint and other leafy greens don't do well in extreme heat. It's really scary when all of a sudden you see crops that aren't in the form you're used to seeing them in, and I anticipate that to continue. The way I see the role of Thistle and other food companies that care about sustainability is that we can start adapting our recipes and surfacing the climate friendliness of our meals.
Tell us about your work with Chrissy Teigen!
We engaged with her via social media. She was pregnant with her son Miles, and was looking for an easy, healthy way to have lunches and snacks at home. I worked with one other woman on my team to help make her meals. It was a little crazy! A little intense, feeling like you were basically acting as a personal chef for such a big celebrity. [Laughing.] But it was also really awesome and we got some great feedback from her.
Recently, fast-food chains have been adding plant-based food options to their menus. Where do you think the future of the plant-based sector lies?
It's so exciting to see companies that traditionally had nothing to do with the plant-based space getting into it. While I don't necessarily agree with all of the products they're coming up with—and a lot of them are still pretty processed and contain heavily refined ingredients—I'm excited for the momentum. This is just the tip of the iceberg. So many more companies over the next few years are going to move in that direction, so it's really exciting to be at the forefront of that. I think it's going to accelerate the speed at which we see change on a dietary level, and hopefully on a climate-impact level as well.