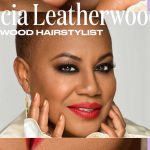 She's a curl's girl. Felicia Leatherwood (she / her) is the go-to hairstylist for celebs like Skai Jackson, Ava DuVernay, and Issa Rae. (So if during every episode of Insecure, you're like, "OMG, Issa's life is a mess, but her hair? Fantastic," thank Felicia.)

Before she preps A-listers for the Emmys on Sunday, we spoke to the natural-hair expert about what goes into a red-carpet look, how she became a stylist to the stars, and which products will keep our edges laid all day.
How did you become a celebrity hairstylist?
Growing up, I was always doing my own hair; and I have 4C hair, which is kinky-coily. I mastered that and wanted to show other women how beautiful their kinky-coily hair could be. That's how I ended up being a natural hairstylist, and the celebrity part just came from me loving what I do. My regular client would have an aunt or a friend who saw their hair who knew Jill Scott or Ava DuVernay, or all these people I've worked with.
And then you built a reputation off those opportunities?
After I did Jill Scott [for the] Why Did I Get Married? premiere, people were like, "Oh my God, who's doing Jill Scott's hair?" And Jill Scott was the one who really inspired us to be natural again. I started to travel around the US doing educational workshops called "Loving Your Hair with Natural Care." I built my name doing these workshops. Now between Issa, Lenny Kravitz, and my brush company, Brush with the Best—I also have a company called Texture Management [where] I send hair and makeup stylists to celebrities looking for a new look—this is what I'm up to.
The Emmys are this weekend. What does that look like for you?
I have 3 clients. What I generally do—and I started weeks ago—is go into my arsenal of hairstyles. Once we know what [the clients] are wearing, then I know what kind of accessories I can put with that look. If it's a gown and there's a high collar, it should be an updo. If they have an oval face, maybe it's half down, half up. I also think, "Which side do they like to take photos on?" All these things go into consideration for a hairstyle that'll last until the party at night… I definitely believe, because we didn't have the Emmys last year, that this year, people are going to pull out all the stops. They're going to go off, so I have to be ready for that.
If you prep weeks in advance, what do you do the day before?
The night before, I put all my things in my arsenal. I make sure I have my extensions, gels, creams, pocket combs, blow dryers. I tend to wake up and completely change the whole idea of what I was planning to do, so preparing 1-2 nights before gives me room to add to or take away from a look I'm thinking of… [The morning of], I usually wake up and meditate. I have this whole thing where I thank my ancestors for blessing my hands and giving me the creativity I need to execute the right hairstyle for the client. That's every time I have a big job. Whether it's the Met Gala or whatever it is, I sit in a state of gratefulness.
Is it difficult coming up with new hairstyles?
It's so hard! Someone did a story and said I came up with like 314 hairstyles on Issa. A lot of times I'm infusing 2 things. I'm looking at a red-carpet moment that she really enjoyed—maybe it was pulled back in a bun or an updo—and I embellish that. We'll text each other and I'll go, "I'm thinking about going in this direction. How do you feel? I'm going to [take] what we've done before and make it more current." That's generally how I've come up with things, because we've done so many hairstyles, from Insecure to red-carpet looks to appearances.
What are some tips for creating long-lasting looks?
There are these Sanek strips we use to tie the edges down, and it makes the hair look so finished. It also helps when [a client's] getting her makeup done or putting clothes on to not disturb her edges. That's one of my must-haves… I love holding sprays, because let's say I do a long, beautiful goddess ponytail, it's good to spray it and then braid it so the hair stays in place. In LA, it's hot, so sometimes the hair will frizz out.