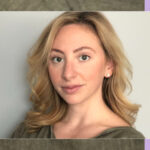 She's a cabinet nominee. Lauren Rome is seeking election into the beauty routine of dermis-covered humans everywhere. And as the CEO of the sustainable skincare line Romer, she's running a very clean campaign.

We chatted with the small business founder about her go-to morning fuel, how she juggles getting herself and a baby ready, and the most adorable way to wake up.
6 A.M. Our golden retriever Henry is sitting pretty much on my head. He's always the first one up in our house. Once I'm awake, I roll over to check the baby monitor and make sure my son Ace is still asleep. During a successful night, he'll make it all the way to 7 A.M.
6:15 A.M. My morning bathroom routine is fast and simple. Brush teeth—I'm an electric toothbrush kinda girl—wash my face with our Romer Cleanser, and follow that up with our Romer Moisturizer. When I'm feeling in the mood, I also put on mascara. My hair is typically thrown up in a ponytail, then I put on my yoga pants and a sweatshirt.
6:45 A.M. I love our Moccamaste, which my husband and I use every day to make coffee. We've also been frothing Starbucks Creamer in the Caramel Macchiato flavor. In my opinion, if coffee doesn't taste good, it's not worth drinking.
7 A.M. Breakfast is my favorite meal of the day, so I'm feeding our son his first bottle and then bringing him into the kitchen to hang with us while I make eggs, avocado, and turkey bacon.
8 A.M. When I first sit down in my office, I do a guided progressive muscle relaxation. It's a type of mindfulness that my therapist recommended. We all hold a lot of stress in our bodies, so working through the physical process of letting that go can relieve a lot of anxiety.
8:30 A.M. While getting into work mode, there are a bunch of items on my desk that get me motivated that were all gifted to me by women in my life. I have a "Girl, Build Your Own Empire candle," a notebook with an RBG cartoon on it, and a fortune from a cookie that reads, "You're just getting started." My planner also says, "Good things come to those who work their asses off."
9 A.M. Work time! I started my business because I had a bathroom overflowing with products and didn't have time to do a 10-step skincare routine each day. At the time, my boyfriend (now husband) was also dealing with the same challenges. I wanted to make products both of us could use, and a little over a year later, I launched the brand.