Sep. 12 2017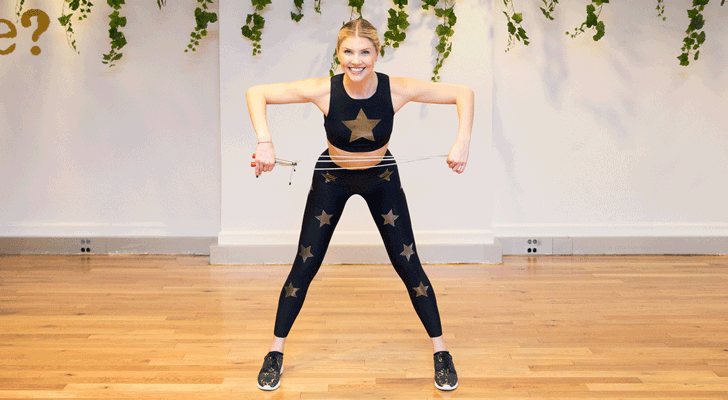 Amanda Kloots is a former Radio City Rockette turned personal trainer to the stars. Her classes are a mix of dance and cross training that keep her clients—including blogger Something Navy—on their toes, ensuring that they are always in tip-top shape. Wondering what this workout warrior does when the sun comes up? Read how she starts her day before heading into the studio below.
7 A.M. I usually wake up at 7 A.M. It takes me a couple of minutes to get out of bed because I have two adorable puppies and a very handsome fiancé by my side. I press snooze and then get up. I start making coffee and down a cold glass of super orange Emergen-C. I pack up my bag and make sure I have everything for my day which usually consists of my Bose Speaker, jump ropes, resistance bands, Sakara meals, and all my chargers, because I don't come back home until 9pm.
8 A.M. I quickly wash my face with my Beauty Rx cleansing face wash and then apply their broad spectrum SPF 50 sunscreen and moisturizer. Then, I am out the door! I usually have my first client at 8:30am, so if I leave by 8 A.M. I make it just in time.
8:30 A.M. I start training. I seriously love all my clients and have a great time training them. Most of the day I am traveling from home to home, seeing clients, but I also work at Studio B and Dance Workshop NY.
8:45 A.M. I like to do interval training with my clients, so we do a great mix of dancing, jump rope, and toning with light weights or no weights. By 8:45 we are probably on our first toning section.
9 A.M. Still training! Each session is 55 minutes. I do each and every workout with my clients. We really do have a lot of fun, but I focus a lot on good form! There is no point in cheating during a workout.
9:30 A.M. Done with my first session and on to the next. I try to book clients by neighborhood, but sometimes that doesn't work out. I hop on my Citibike and I am traveling to my next client! Sometimes I only have 15 min and sometimes I have 30 min. I love riding my bike in the city. I find it's the quickest way to get around, especially when traveling from across town. I also love NYC, so riding my bike instead of being on the subway is a lot more enjoyable for me!
11 A.M. I am done with my second session and plan on sitting down to eat my Sakara breakfast. I love Sakara because I can take the meals with me wherever I go and I know I am putting healthy food into my body to sustain my energy. Since it's summer I usually find somewhere outside to enjoy my breakfast!