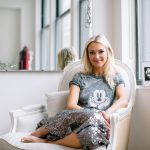 Zanna Roberts Rassi is the definition of a trailblazing multi-hyphenate. In addition to being an award-winning fashion and beauty journalist, Zanna is also a stylist, television host, and a co-founder of the fan-favorite vegan, clean beauty line Milk Makeup. She is also the Fashion Editor at Large for Marie Claire, an E! News fashion correspondent, an NBC Today Show fashion contributor, and a stylist for Target. We imagine her resume as a scroll that falls down onto the floor and just keeps going. You might also recognize Zanna as a sought-after judge, mentor, and host for popular shows like Project Runway All Stars and Glam Masters. So how does one woman tackle all of these roles? Zanna says she "either thrives on multitasking, or I'm useless at focusing, haven't decided which yet!" Another important position Zanna holds? Mother to fraternal twin girls Rumi and Juno—"they are my everything and make me laugh hard every day." Today, Zanna shares how she preps for a busy workday, and in partnership with Boxed Water Is Better, shares how she works sustainability into her daily routine. 
Time you wake up: 
Hmmm. I have to look at my phone alarm settings to answer this (3:45am, 4:50am, 5.10am, 6am…). Clearly, I have zero regular routine! Between shoots, morning TV segments, and flights, no two days are the same. So, I journal – today! 
7:15 A.M. Woken up by the pitter-patter of small feet wearing plastic Disney dress-up shoes coming into our bedroom. I shuffle them to the kitchen, pour the kids Cheerios with one hand, make my coffee with the other, email with my third (which I grew when I had twins!) 
7:30 A.M. Nanny arrives…I breathe a sigh of relief – then hand over the reins!
7:45 – 8:30 A.M. Rapid 45-minute gym session with Alberto. He's an ex-marine who loves to do circuits. He has trained my husband for a long time, and I got in on the act once a week. He's so nice you forget he's torturing you. I'm a better person mentally, emotionally, and of course physically after a work-out with Alberto. 
8:30 A.M. Skin is DRY! I apply Milk Makeup's new Hydrating Cannabis mask. It's a solid green flash mask, which I swipe on. It dries down rapidly (due to low water content) and can be taken off in a couple of minutes with maximum nourishing results. 
In the shower I swear by Christophe Robin's shampoo and conditioners…for my newly bleached blonde hair! I moisturize with Eve Lom TLC cream or Hauschka Day Rose cream. The following makeup routine often takes place in transit from Battery Park City to the Meatpacking and Milk Makeup HQ!! (#commuterbeauty)
BASE: 
Conceal with Milk Makeup Flex Concealer under eyes, nostrils, and on chin!! It contains marshmallow root so it is literally springy! Not at all dry or cakey.   
Foundation is always Milk Makeup Sunshine Skin Tint In Honey (Easy Roller-ball application and SPF 30). 
Highlighter in Lit for a realistic lit-from-within look. 
Bronze up with our Milk Makeup Matte Bronze stick in Baked – I call it my ten-second tan! 
EYES: 
Mascara – KUSH primer followed by KUSH Mascara containing Hemp-derived Cannabis oil (we use it as a vegan alternative binding agent rather than animal-derived and commonly used beeswax). It's SUPER nourishing and conditioning for lashes… I call it the lash mask! 
Brows – KUSH brow gel – in Nug (our new shade for light blondes). Doesn't leave any crispy brows! 
9:00 A.M. At Milk Makeup. The team and I host an Editor breakfast to present our latest launches: KUSH lash Primer – for extension-like long lashes! KUSH Waterproof Mascara – perfect for summer vacations. Both dropped on 4.20 – pun INTENDED. 
9:30 A.M. Milk Makeup Managers meeting. It's here myself and my CO-Founders – Mazdack Rassi / CEO / my brilliant husband, Dianna Ruth / COO / Product Wizard and Georgie Greville Creative Director / Zeitgeist and our brilliant team leaders sit and go through anything and everything that needs to be discussed. From PR events, product launches, influencer marketing, staffing, finance, philanthropy…and SO MUCH MORE!  We need another hour, but I have to bounce…
10:30 A.M. On calls with the E! team to talk about our upcoming E! "Live From the Red Carpet" features. I'm on camera but also work hard behind the scenes to ideate segments, reach out to industry contacts and lock in celebs!
I check my calendar…The day has just started… next up…
Filming denim segment for E! News (airs weeknights at 7pm ET/PT on E!)
1345 calls and emails 
Ashely Graham dinner 
Influencer event in the Milk Gallery 
Zanna's sustainability tip:
I always carry this really cool reusable straw around with me that folds into a case. Milk Makeup gave these away at an event once, and I thought they were brilliant! It's my go-to and one way to do my part every day. We use a company called ECO SET on all my photoshoots and sets, so no single-use plastic, ever! 
At Milk Makeup, we are focusing on becoming a more sustainable brand every day, especially as more clean ingredients and clean-focused technologies are developed. When we started Milk Makeup, we all had young kids, which makes you hyper-aware of all the toxicity in the world. We wanted to use earth-friendly ingredients that we felt great about, especially if our kids got their hands on the products. That's why we're cruelty-free, paraben-free, and 100% vegan.