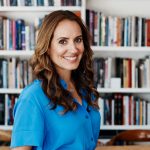 Sandra Campos is the CEO of Diane von Furstenberg, one of the most iconic and innovative fashion brands of the last century. Before helming the celebrated company, Sandra held impressive positions, such as co-president of Global Brands Group, where she was in charge of lines like Juicy Couture, Bebe, BCBG, and Herve Leger. She also co-founded a celebrity brand-building company that worked with Selena Gomez on her Dream Out Loud collection. Though Sandra is now a top executive at one of fashion's most coveted labels, she wasn't always in the C-suite. There were several jobs, experiences, and serendipitous interactions in Sandra's road to CEO—below, she breaks down exactly how she landed her dream position. And, in partnership with Boxed Water Is Better (Sandra's favorite brand to stock in her office!), she shares how she works sustainability into her day job.
What was your first job out of college? How did you get it?
I grew up in Texas and went to college with a specific interest in pursuing a career in fashion. I knew that I needed to leave Texas in order to be in the business, so when I graduated, I decided to send one resume to LA and one to NY. I knew after my first design internship that I wanted to go into the business side of the industry, so I accepted a position in sales for a wholesale manufacturer in NYC. I had never been to NY—I flew for the interview (which took 4 hours!) and knew no one in the city. Still, I accepted the position and moved within two weeks. I had no apartment, no friends in NYC, and had to live in a women's hotel for the first six months as I figured out where to live and with whom. 
What was your college major? Did you feel like your major was necessary for the field you wanted to work in? 
I attended Texas Tech University, a large state university that isn't exactly a fashion destination and focused on marketing, merchandising, and design. In hindsight, I took a lot of courses that were good for me and that are relevant to my work even today. 
What internships did you do prior to your first job?
Each summer, I focused on making money, so I only had one internship, which was in pattern-making. I was on my feet all day, in a windowless room, measuring and cutting. I decided then that I didn't want to be a designer.
How did you land your current job? What were the steps you took?  
I met Diane through a mutual contact, her prior creative director and mine as well, Nathan Jenden. Nathan and I worked well together; he's extraordinarily talented, and was kind enough to want me to meet Diane and help the DVF business. In my career, I have worked in almost every area of the company—wholesale and retail sales, buying and merchandising, retail planning and, ultimately, now being responsible for all aspects of the business. The one thing that has prepared me most is my knowledge of the customer. Early in my career, I traveled all over the US, particularly the south and Midwest, visiting stores/giving seminars to staff/servicing the store layout and events. The customer is everything and knowing her lifestyle, for me, as a business leader, is what I consider to be the most important focus and the most important thing you can get right.
What was the best piece of advice you ever received? 
"Every experience you have will be useful."  Learn it from the inside and out. Ask questions. Find solutions to problems.
Is there anything that you think our readers would be surprised to know?
I think readers would be surprised to know that in high school, one of my first summer jobs was working in the sanitation department at a water amusement park…. My friends were selected to work in the ice cream stand in air conditioning and I was picking up garbage. It was humbling, to say the least.
How do you incorporate sustainability into your daily routine?
I am very committed to being eco-friendly, and one way I do so during the day is by omitting plastic straws from my routine. I drink a smoothie for breakfast every morning, and I make sure to use a glass instead of a single-use plastic cup and either a paper straw or none at all. I also only stock Boxed Water in my drawers to offer people I'm meeting with, encouraging them to be more sustainable as well.