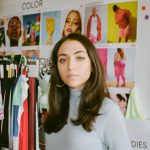 Ferris Bueller can take the day off–Cami Téllez is leading the Parade now. A Gen Z company set on changing the American underwear story, Parade was co-founded by Cami and Jack DeFuria. Since its launch last fall, the inclusive underwear brand has already partnered with companies like Bite Beauty, Swarovski and Planned Parenthood. We spoke with her about how she designed her drawers, and her dream job.
What inspired you to start Parade?
I was going to the mall and seeing supermodels blown up on these massive storefronts and thinking, "This is what it means to be a woman?" It felt like such a one-note definition of sexy that we all had to fall into. I realized if we wanted to rewrite [that story], it would have to be a grassroots movement. 
What did that revamp look like to you?
We use recycled fabrics and donate to Planned Parenthood, because these are things our community really cares about, and we want to connect with people who share our same values and who rally behind those causes. That's key to us.
What did the early days look like? 
My co-founder, Jack DeFuria, and I had been working in tech since we were 18, when we first went to college. About a year ago, he was wrapping up at NYU and I dropped out of Columbia. We put our heads together to figure out the cultural mission of Parade and we strived to ladder up to one core goal: changing the underwear industry. We raised $3.5 million from investors from companies like AWAY and Casper, which allowed us to make hires and gear up for a launch.
Those are big companies. What was it like to pitch to them?
I was 21 when I started the brand, which is a tough age to be taken seriously. So much of my inspiration and direction for Parade came from my own experiences, so while I think that getting investors to believe there was a wide opportunity for this brand was difficult, ultimately, I knew the customer, because in many ways I am her. 
 Does that mean you're the ultimate muse for the brand?
We have a very wide definition for what it means to be a Parade girl. We have people of all body types and gender identities. We believe all women and female-identifying people are freewheeling, dynamic and expressive. If they are showing up in the world, then we're thrilled to have them in the community. 
What's the most valuable thing you've learned since starting Parade? 
You can never surround yourself with enough talented people—they'll help you work through obstacles in ways you never thought, and open doors before you even realize you need to get there. Hire people you'd want to work for, and keep them motivated and inspired by creating an ambitious business model that's innovative—the sky's the limit when people are excited to come work with you. 
What's one piece of advice that you'd give to someone? 
My parents are immigrants, and they always tell me that we live in one of the only countries in the world where failure isn't looked down upon. You absolutely cannot be afraid to fail or lead from a place of fear. You have to be fearless for your team, for your investors and have deep conviction in what you're doing—only 1% of startups succeed, so you have to swing for the fences, take risks and do it big.