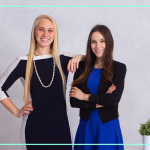 Govern for America might sound like a West Wing episode, but there's nothing fictional about this female-powered leadership hub. Created by Octavia Abell and Kyleigh Russ, the organization connects promising college grads with "high impact jobs" in public service, ensuring the country is stacked with excellent young minds while giving a diverse, dynamic group of young leaders the chance to make a difference. Normally, this month is when Octavia and Kyleigh would be organizing their Summer Institute, which connects new graduates with politicians, community leaders, and public servants across the country. But with COVID-19, they've had to pivot in order to keep fighting for their American dreams. Here's how Octavia and Kyleigh are getting it done now…
First off—why do we need Govern for America? What are you doing that isn't happening naturally in local and national governments?
Octavia: Oh, I love this question, and here's why: Before we started Govern for America, I was working in the Rhode Island state government. I would be the only person under 30 in a meeting about student loans… One in three people at that table were eligible for retirement. And we need the perspectives of older Americans; we need their leadership. But how can we expect government agencies to solve problems without being connected to them? And then I'd hear from people my age asking, "Why would you work for the government?" So many people in their 20s and 30s want to have a social impact, but they're not necessarily seeing government as an avenue for meaningful change. And we need them to be!
Kyleigh: The same thing happened to me. I was an education policy major in college; I was so excited to go work in the public school system. But my senior year, I continuously heard, "Try banking; try consulting. Then you can go into the public sector." And literally thousands of young people are hearing the same thing! What if we tell people the opposite? We should be saying, "You're excellent. We need you. Go into government and make change from the inside of our political systems."
Fill in the blank: every day at work, my goal is…
Octavia: To build the next generation of public sector leaders.
Kyleigh: To figure out the best places to make a systemic impact, and to find where public policy touches people's lives. Then empower the best people we can.
Do you think this pandemic is changing the way young American women see government?
Kyleigh: Of course, because we're forced to pay attention. It literally affects all of us.
Octavia: As a public policy junkie, I'm truly obsessed with how local leaders are using this moment to create more connected change. We're seeing every day what's effective and not effective strategies being used by leaders. And we're hearing common frustrations by young people—and hopefully, they'll use that frustration as a gateway to get more involved in democracy.
Is this a good time or a bad time to be looking for a job in the public sector?
Kyleigh: It obviously depends on where you are and your skill set, but I do think this is a unique moment to get even more involved. We recently got an email from Massachusetts saying, "Can we hire someone to help us distribute unemployment benefits? We are hiring 30+ workers to help us process requests." That's an opportunity to get inside the system and see how it works, while you're getting paid and doing good for others.
Is social media a good way to connect with leaders? Do governors and mayors even care if we tweet at them?
Octavia: Yes, yes, yes, yes. Please stay connected to social media to understand how your local government is responding to COVID-19, and please engage! New Jersey just announced they're pausing evictions—you think that would have happened without public pressure? Social media is so important, especially when we can't convene in public… and frankly, some governments make it really hard to get to a community meeting. Now, you just click a link. Twitter is challenging, for sure, but it's a really active place to learn, to amplify voices, and to put public pressure on leaders for the greater good.
Kyleigh: Just don't post or retweet unverified links. Make sure all your information is coming from a verified source… also, you always have the right to call your representatives.
Does calling your elected officials actually work?
Kyleigh: For sure. It might feel like you're yelling into a box, but I've worked at those offices. I can assure you that elected officials get those messages. That part of our system does work. Don't be afraid to reach out, especially now.
Anything else you'd like to add?
Kyleigh: Govern for America is looking for people to join our COVID-19 Response Corps, a group of dedicated people motivated to help our government respond to one of the greatest challenges of our time. Please fill out this interest form for the chance to be matched with a COVID-19 response project.