May. 12 2020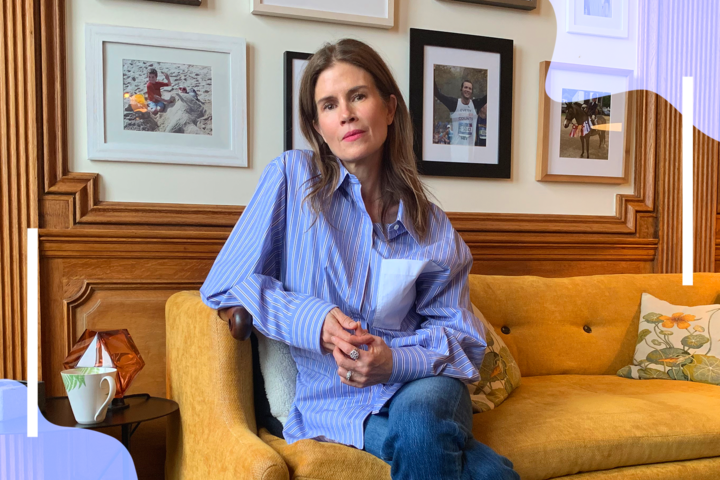 She's not just good, she's Gucci. As a celebrity makeup artist—and a beauty celeb in her own right—Gucci Westman is responsible for some of Jennifer Aniston, Cameron Diaz, and Reese Witherspoon's most iconic moments. As the founder of Westman Atelier, she creates camera-ready products that are Hollywood-approved. And as the mom of three kids, she's used to real-life chaos along with founding-while-female hurdles.
How has Gucci's work changed since red carpets got postponed? We asked her.
It looks like everything—even celebrity beauty—is going virtual now. How are you helping your clients navigate that new reality? Do you do skincare or makeup tutorials for your friends online?
Yes! I'm trying to create new video tutorials, just focusing on little tips and tricks that can brighten your day. I even touched up my roots and dyed my brows so I could show how anyone can do it at home. Makeup is so cheerful and optimistic—who doesn't need that now? At Westman Atelier, we've introduced the Clean Beauty Concierge. It's a complimentary digital 1:1 consultation with a makeup artist that you can tailor to your specific needs. The response has been overwhelming. Hearing a 10-minute consultation brightens someone's day is amazing.
You just launched a new product, Peau de Rosé, via your Instagram stories. How do you make sure a new product "works" before it's sold?
As a makeup artist, I want to feel the texture of the product and see how it looks and feels on the skin. For color, I'll always look in natural light to see its tones. And then you have to consistently test it on your skin to see how it wears throughout the day, how it feels, and how it interacts with your other products. But it's not just me that tests new products—I love to involve the whole team… Initial reactions and feedback are so crucial. I want everyone to be excited and 1000% behind what we put out there.
What skincare ingredient are you obsessed with right now? Why?
Probiotics! I love microbiome-friendly skincare. Probiotics support you from the inside-out… Since incorporating them into my skincare, I notice my skin looks and feels calmer.
How do you think beauty trends will evolve in the next few months?
I'm not one for trends, but I do think that what the world is facing right now will direct consumers into thinking more about clean ingredients and sustainability. And that's not a trend, it's the way we all need to think.
You've been posting digital makeup sessions with everyone from Cameron Diaz to Christy Turlington Burns. Can you recommend a "Zoom beauty" look?
I'd go for warmth and color. Warm up your complexion with Westman Atelier Beauty Butter Bronzer. With the powder brush, sweep bronzer in a horizontal motion over the cheeks, eyelids, temples and forehead—anywhere the sun would naturally hit. Just don't go below the cheekbones. Spot check any redness or blemishes with Vital Skin Foundation. For the most luminous glow, sweep Super Loaded Tinted Highlight up the cheekbones with the blender brush. Peau de Soleil imparts a beachy radiance, Peau de Pêche gives you a peachy glow or Peau de Rosé brightens the skin with a warm rose glow. For a healthy flush, dab Baby Cheeks in Petal on the cheeks and lips. For the final little touch, coat lashes in Eye Love You Mascara for super long, voluminous lashes that really wake up the face.
How do you think red carpet beauty might evolve going forward?
Such a good question! It's really tricky to know what's going to happen, and I do think it will take us some time to understand what that's going to look like. It will definitely change though. I could see it becoming a more private and intimate affair. There could be more professionals in the hair, makeup and fashion industry giving direction [to celebs] remotely, instead of working together [in one place] for every event.
Want to walk us through your skincare routine?
I am trying to give myself a little extra time for self-care right now. At night, I remove my makeup with Pai Skincare Light Work Rosehip Cleansing Oil first and then cleanse with Tata Harper Regenerating Cleanser. I like to switch up my serums and moisturizers depending on what my skin needs. I've been using Beboe Therapies High Potency CBD Face Oil for a while and I love how hydrating and soothing it is. I've been incorporating Aurelia Revitalize and Glow Serum into my routine too—I love the brand's focus on probiotics for calming and repairing the skin. If my rosacea is flaring up, I'll reach for Éminence Clear Skin Probiotic Masque. It contains yogurt and cucumber for a calming, cooling effect. For moisturizer, I alternate between Dr. Hauschka Rose Day Cream and Augustinus Bader The Rich Cream.