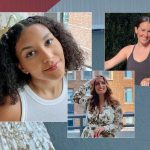 2 things that are always evolving: our fashion sense and QVC. The iconic retailer is probably a favorite of your mom's, but it should seriously be on your radar, too, because the platform has overhauled its collections for our modernized tastes, expanded and highlighted inclusive brands, and ramped up its already insane discounts.

And if you don't believe us, listen to Bella Gerard, Alexis Barber, and Cameron Rogers—3 beauty + fashion pros we challenged to create IG-worthy looks with only QVC finds. Spoiler: They delivered, and so can you. (And to sweeten the deal, here's $10 off a purchase of $25+ with code HOLIDAY until 12/20 for new customers.)
BELLA GERARD
Occupation: Fashion + Lifestyle Editor, StyleCaster
"I always saw myself working in fashion media," says Bella Gerard (she / her). "When I was younger, I read all the magazines. By the time I got to college, I realized digital was the future of this space." After graduating, her Bold Type-like journey took her from Health magazine to Elite Daily to StyleCaster, where she keeps her ear to the runway as a fashion editor.
"My personal style is a combination of what's trending and what I want to wear for a long time," she says. "2021 is a year of maximalism, mostly because everyone is so excited to have places to go again. We're interested in super fun prints, unique silhouettes, and standout pieces. But to me, wearing that head-to-toe doesn't work long-term. A great dress with a fun pattern can take you far, especially paired with statement accessories to 'fashion' it up a bit. Getting a few of those things and blending them with custom staples is the perfect balance, because even though my personal style changes every 6 months, I have a safety net of clothes I already love."
And like a true industry insider, she has tips for discovering "hidden gems" on QVC at discounted prices. "When cowboy boots became a thing, I found a bunch of great brands on there like Dingo that had some really amazing ones," she says. "There are great handbag brands, like Jeff Wan—which I can't believe QVC sells!—that again, are a bit trendy, but at their core, classic. Radley London is a brand I love that's also on there. I think people don't realize how big the variety on QVC is, and they'll be surprised at how many really chic options there are."
ALEXIS BARBER
Occupation: Global Shorts Content Strategist at YouTube
"The tea is, I never spend more than 5 minutes on my makeup," says Alexis Barber (she / her) from her Brooklyn apartment. "I do a bit of powder—which you need in the summer because you will be sweating—some full-coverage foundation, bronzer, and blush. Then I brush up my unruly brows with something heavy-duty, a tiny bit of brown eyeshadow with shimmer on top, and I'm out the door. Never have I ever spent more than 10 minutes, even since I was young and trying to be a makeup guru."
"Young" for the 22-year-old means 6 years ago, when she was a ride-or-die subscriber to trending tutorials. "Growing up, I loved makeup," she says. "It was a way to express myself and build my confidence. I've always loved YouTube, so I was deep in that space. After trying out the colorful stuff, I realized it wasn't me despite being popular. I've always loved a slick, natural look, so I just get good quality products that fit with any look I'm going to have." That slick look, BTW, applies to her hair routine, too. "I've got 2 looks. One is a middle part with my curls out in their natural state, and the other is a slicked-back bun. There's pretty much nothing else," she laughs.
Alexis may like to keep her beauty routines simple, but she's way more intentional when it comes to finding her hero products. "I love supporting Black-owned businesses and businesses that have a large shade range. It was easy to find on QVC, because Mented products were featured at the top," she says. "And I prefer to shop online because I'm too freakin' busy to do anything else! Online, you can lay it all out and have the live reviews in front of you. When you're at a store, you want to get out, you want to go to your next place. You can't always get everything."
CAMERON ROGERS
Occupation: Health and Wellness Influencer
"On the go. On the move." That's been Cameron Rogers' motto since having her newborn son, Liam. As a health and wellness influencer, Cameron gives a crazily honest look into the wins and woes of adding 'raise a human being' to that already-tricky work-life balance. "I'm not trying to glamorize life," she says. "It's the reality of everything. I'm not spending hours putting on these elaborate outfits and hair and makeup and jewelry. I'm really just showing up. 'This is me, this is what I want to talk about, this is what's going on today.' It's just leaning into what you look like, who you are, and showing up as yourself."
For Cameron, showing up as herself means donning an "elevated tomboy" look that's always casual, always comfortable. "A lot of my fashion choices are based on the least amount of thinking to help with decision fatigue. I love just grabbing something, putting it on, and walking out the door. That's why I love a one-piece outfit, because it takes out the consideration of what works together and what doesn't," she says. "As a new mom, I feel like all day I'm deciding different things—whether it's what we're eating, where we're going, or what we're doing. 'Is Liam changed? When's his feeding time? When's he napping?'"
"Honestly, QVC has so many options that, at first, I was worried I was gonna be overwhelmed. But I really appreciated the filtering aspect of everything. I was able to look at, 'Are there any designers I know on here, ones that I love?' Same with shoes. Being able to choose what type of shoe and then even within sneakers. I'm a huge sneaker person! Also, I just enjoyed how everything was in one place."