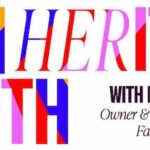 She's one in a melon. 👩‍🌾
Ever wondered what it was like to own your own farm? (And no, your adorable garden doesn't quite count.) Well, Leslie Wiser (she/her), owner and farmer of Radical Family Farms, is about to tell ya. "I founded Radical Family Farms in the fall of 2018 when we moved onto this 3-acre property in Sebastopol, CA," she says. "Prior to that, I had searched for farmland all throughout the Midwest—in Indiana, Ohio, and Illinois. And while the farmland there is way more affordable, it just wasn't a good fit for me to raise my kids as a queer, solo parent of a mixed-race family. With the help of my family, I was able to purchase a place to live and to farm. For me, this has been one of the best places to farm in the country as a small market gardener."
Before you get on with your day or hit the hay, keep reading to hear more about Leslie's adventurous journey into agriculture, what her fave fruits and veggies are to grow, and how she's giving back to her community.
Did you grow up farming?
I got into farming in my early 20s and did an internship through Appropriate Technology Transfer for Rural Areas (ATTRA) at a farm in Palmer, AK called Arctic Organics. That was my first farming experience, and it was amazing.
But for a while, I didn't think farming was for me and had actually forgotten about that experience until I had my daughter in 2011. I thought, "Well, I really want to raise my children outside. I want them to know where their food comes from." And then I remembered being in Alaska, where families raised very thoughtful, compassionate, and intelligent kids on or around the farm.
How has your culture been incorporated at the farm?
I always wanted to use farming as an opportunity to reconnect with my Chinese and Taiwanese heritage, because for so much of my life I was raised not knowing either side. It was such a revelation to know that there were these bigger cultures, family histories, migrations, wars, etc. that we had in the family that was put aside for survival. I wanted to remember that.
This farm is really an exploration and honoring of both sides of those family histories, although the farm mainly does Asian heritage vegetables. But being a multicultural child of immigrants, this career path will be a lifelong situation. Who knows what my next step will be in exploring that?
What are a few of your favorite foods to grow?
I love to grow bitter melon, which I never knew about until I started the farm! It's such a significant cultural crop across the whole Asian diaspora. I now grow all different varieties of bitter melon, which have major health benefits like regulating high cholesterol. Another produce I like to grow is winter melon. It's an easy crop to grow here, and is so significant to Chinese food and culture.
And finally: How can we support you?
I was raised by my German grandparents when I was in high school, and then after that, I lived with my Chinese grandparents in Taiwan. It's a big cultural value to respect your elders in China, so I created the Feeding Seniors program as one of our community initiatives. It began during the start of the pandemic when a lot of seniors were homebound because of Covid, as well as the rise in anti-Asian hate crimes. I wanted to do something to give back to those in Oakland Chinatown and San Francisco Chinatown by providing free, culturally relevant produce that would be distributed at community centers.
A lot of the seniors that we serve are non-English speaking, immigrants, and/or are of low-income. This year, we're working with an org that houses a lot of these individuals in the single room occupancy (SRO) buildings that were once hotels that were built during the Gold Rush. On top of that, the rising cost of groceries is creating a difficult situation for seniors to find fresh, nutrient-dense produce. So, another goal of mine is to make getting groceries easier and more accessible as a way of honoring and respecting elders because of how my grandparents played such a significant part in my identity and raising me. If anybody wants to support the farm and these goals, they can make tax-deductible donations on our website.