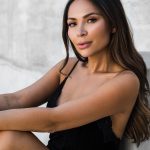 Marianna Hewitt is the ultra-popular lifestyle blogger behind Life With Me, a hub for all things beauty. With a mission to inspire readers to lead a beautiful life inside and out, Marianna shares her expertise with almost a million social media followers. Not to mention she was also named Influencer of the Year at the 2017 WWD Beauty Inc Awards. As if she wasn't impressive enough, Marianna is also one of the founders of Summer Fridays, a beauty brand that created the hit Jet Lag Mask (which the Newsette team uses daily). Wondering how this talented beauty boss starts her mornings? Find it all below.
7 A.M. When I first wake up, I grab my phone and usually already have emails and texts from New York. I look and respond to anything urgent.
8 A.M. After I see anything I have to respond to, I scroll through Instagram to see anything I missed while I was asleep and check our direct messages on the Summer Fridays account since a lot of people share that they mask before bed or when they wake up.
8:30 A.M. I make my morning smoothie and coffee. I only use recipes approved by my nutritionist, Kelly Leveque. Her book Body Love has so many low sugar, high protein recipes with healthy fats that keep me full till lunch. I make myself an iced almond milk latte then get ready.
8:45 A.M. I shower at night, so in the morning my hair is dry and ready to go. I do my morning skincare routine, which is pretty simple. I cleanse with iS Clinical Cleansing Complex, use a Vitamin C serum then follow up with Summer Fridays Jet Lag Mask and Control Correctives SPF. I always wear sunscreen, no matter where I am in the world.
9 A.M. After I do my morning skincare routine, I'll do my makeup . I keep my makeup routine fairly simple during the day. I use a BB cream or a lightweight foundation. My current favorites are Armani Beauty Face Fabric and Perricone No Foundation Foundation.
9:30 A.M. I try to always post content to Instagram first thing in the morning, so I'll take a look through planoly, an app I use to plan my feed, and decide which post goes up that day. I share an image to Instagram then reply to any immediate comments I get.
10 A.M. I publish my first blog post of the day. We share a new post on Life With Me every day, Monday to Friday then I'll head to the office to work on Summer Fridays for the rest of the day.