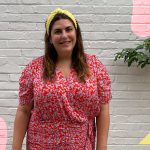 When Katie Sturino couldn't find the products she needed to combat chafing, underboob sweat, and B.O., she decided to make her own—all while upgrading Instagram thanks to her fashion posts. In 2017, Katie launched Megababe to major success. (And we're not just saying that: she made an anti-chafe stick that completely sold out within a week.)
Though she typically lives in NYC, Katie is spending quarantine with her family in Wisconsin. Here's how it's going…
6 A.M. I am a morning person through and through. I wake up at 6 A.M. on my own (no alarm needed!) ready to get my day started.
6:30 A.M. I am always the first one to wake up, so while my husband and dogs sleep, I meditate before I check my phone. It helps me take on the day with a level head. I used to check my DMs right out of bed, but it would leave me feeling scrambled.
7 A.M. Still waiting for my husband to wake up, I listen to NPR News Now to see if I missed any news during the night. (The episodes are five minutes so it's a quick listen!) Skincare-wise, I can't even think about putting anything on my face in this heat! So I use a hat as a physical blocker to protect my face from the sun, and call it a morning.
7:30 A.M. At this point, my husband and dogs are starting to wake up, so I let the dogs out and we drink some coffee before we start our respective days.
8 A.M. I walk over to my parent's house where my sister, brother-in-law, and nephew are also staying. My sister makes me a yogurt parfait, and I get to have breakfast with baby Bobby!
8:30 A.M. After breakfast, we go for a walk around the neighborhood. I leave the dogs at home because it is way too hot for them right now.
9 A.M. I walk back from my parent's house and start the work day. Each day looks different, so I go over my schedule for the day each morning, and take the day head on!