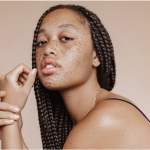 Dr. Loretta Ciraldo MD, FAAD, is a highly sought-after, Miami-based dermatologist with over 40 years of experience. If four decades of dermatology aren't enough to make her the ultimate skincare expert, Dr. Loretta also did research at Harvard Medical School, where she executed early testing on the effects of UVA on human skin, and has performed tens of thousands of total body exams during the course of her career. Now, she is the co-founder of Dr. Loretta skincare, a line of anti-aging products formulated with high concentrations of advanced medical-grade ingredients. Since we know skincare advice is rampant (and often wrong) across the internet, we enlisted Dr. Loretta to set the record straight. Below, she declares 5 statements as either a beauty myth or fact.
Lemon juice can lighten dark spots
MYTH: Although lemon juice can lighten hair, when applied to skin it can actually cause staining and hyper-pigmentation since it contains psoralen, a compound that makes skin more sun sensitive.
Toner is a necessary step 
MYTH: Toner is only necessary if you wash your face with soap, since soap is very alkaline and upsets pH balance. If you use a non-soap cleanser, it's already pH balanced so you don't need a toner, but can certainly use it if you want.
Using more water to rinse off your cleanser can make your skincare routine more effective
TRUE: If you want to maximize penetration of your skincare products, it's best to apply them after rinsing off your cleanser with at least 10 splashes of tepid water. And for body lotions, it's best to apply them after you've been in a tepid water shower while your skin is still damp. This increases the outer surface area of skin and allows more product to enter living skin layers.
Broad spectrum SPF protects you from all damaging light rays
MYTH: Recent studies have concluded that blue light (also called HEV) from the sun and our digital devices can cause even more pigment and redness than UVA.  So look for products that contain blue light protection like our Dr. Loretta Tightening Eye Gel and Dr. Loretta Anti-Aging Repair Moisturizer and use them even when you're indoors.
You only need to wash with a cleanser at bedtime and not in the morning
MYTH: The World Heath Organization reports that indoor pollution levels are even higher than outdoors. Since pollutants are tiny molecules that penetrate deeply into our skin it's very important to wash with a detoxifying cleanser morning as well as at bedtime. Dr. Loretta Gentle Hydrating Cleanser contains marine algin that absorbs these tiny microscopic pollutants before they penetrate into living skin.