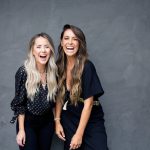 Nikki Lee and Riawna Capri are the co-founders of IN COMMON Beauty and the celeb-loved Nine Zero One salon in LA. With the mission to shatter hair stereotypes, IN COMMON Beauty is a product line that can be used and enjoyed by everyone, from consumers to salon stylists. Beyond being entrepreneurs, Nikki and Riawna are some of the most sought-after haircare professionals in the world, with clients including Kate Hudson, Selena Gomez, Jennifer Lawrence, Nina Dobrev, and Emma Roberts. And now, with their brand, we too can have red carpet-worthy locks. We asked these co-founders to let us in on a typical night in their schedule. Find their nightly routines below.
6:30 P.M.
Nikki: Typically when I get home, my daughter, Parker, is ready for dinner if she hasn't eaten already. 
Riawna: When I get home from work, the very first thing I do is put on sweatpants and a sweatshirt. I don't think I'm in the house more than 60 seconds before all of my clothes are off. That's the truth. 
7:00 P.M. 
Nikki: Shortly after Parker's dinner, we'll do bath time. I use Tubby Todd on her. They're all organic and we use their whole system. It is great on her skin! We also do essential oils for her at night. I use Doterra oils and diffuse them in her room. I use lavender and another one called Breathe. Her room is like a spa. I am going to start doing that in my room, so my room is also like a spa. Then, I try to get Parker down to bed around 7-7:30pm. 
Riawna: Once I'm cozy, usually my fiancé Morgan will cook dinner which is amazing! I'm very lucky. Usually, I'll have a glass of rosé or tequila and soda. My new favorite is Saved Wines Rose. Depending on the difficulty of the day, it might require Don Julio 1942, soda, and lime.
8:00 P.M.
Nikki: After Parker goes to sleep, my husband and I will spend some time together. We will typically eat dinner together and then I am exhausted so I'll go wash my face. I use iS Clinical Face Wash. I use their whole system because of my amazing facialist, Shani Darden. She recommended all of their products and I am obsessed! I use iS Clinical for my face and then sometimes I will take a bath, which has been so good for me. I like to take epsom salt baths because I retain so much water throughout the day. After my bath, I'm obsessed with the Osea Anti-Aging Body Balm. 
8:30 P.M.
Nikki: Then I like to get in bed and watch one of my shows. Recently, I have been loving Dead To Me on Netflix. 
Riawna: After dinner and a cocktail, Morgan and I try to catch up on our shows. We have been loving Younger and Big Little Lies.
9:00 P.M.
Riawna: I use the same face wash as Nikki, the iS Clinical or Kate Somerville. They also came out with a 3-step system. It has two serums and a moisturizer which I'm really into and like a lot. After that, I use Beboe Therapy CBD-infused skincare on my chest, top of my hands, and my neck, which feels so nice. As far as body creams, I love the same one as Nikki which is the Osea Anti-Aging Body Balm. It really is incredible. 
9:30 P.M.
Riawna: If I shower at night, which I normally do, then I'll make sure to use my IN COMMON Beauty's Magic Myst and sleep with my hair above my pillow. When I wake up in the morning, my hair has a great texture due to the Magic Myst. When you sleep with your hair above the pillow, it dries naturally and has so much volume, so that is always key. We're getting ready to launch some new products, and can't wait to share them with you! 
10:00 P.M:
Nikki: To be honest, I'm passed out between 9pm and 10pm. Seriously, I'm out like a light! By the way, no phone. My phone is literally on the charger face down by 9pm and I do not look at it until the next morning. Therefore if Riawna needs me in an emergency, she calls my husband.
Riawna: And then Morgan and I will go watch a few more episodes, pass out on the couch, and head to bed around 10:30-11pm.