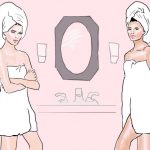 Ahh yes, Rescue Spa. The famous spa name passed around by glamorous New Yorkers. The founder, Danuta Mieloch, is the closest thing to a skin goddess, as clients praise her ability to make their complexion radiant, hydrated, and blemish-free. Naturally, I jumped at the opportunity to get a facial with the amazing Danuta, after hearing her praises for quite some time. Literally one week after my appointment, I saw an Instagram story of Danuta posing with none other than Rosie Huntington Whiteley. If it's good enough for her, it's most definitely good enough for me!
When I walked into Rescue Spa, it didn't have the typical dim lighting and rainforest music you may be used to. It had modern and simple decor and the store (yes, it is also a store, hair salon, nail salon, makeup parlor, and spa) was chic and light, making me even more excited for my Bio-Lift facial.
Danuta is a natural beauty with amazing skin (obviously) who studied to be a nurse alongside dermatologists in Poland. She then moved to Paris and worked under Dr. Allouche of Biologique Recherche, the brand that happens to be the majority of the products used in the spa.
Danuta started by examining my skin very closely. I felt her pull it in different directions and even look in my ears! After that, she asked me what I noticed first about my skin when I looked in the mirror in the morning. I said my concerns are my dark circles, blackheads, skin dryness, and the occasional blotchy/uneven tone. I know that sounds like a lot, but I practice a consistent skincare regimen and still, my skin is never perfect. She decided that I have pretty good skin (#blessed) but her goal was to make it more "glowy." And guess what? That's exactly what she did. I even received compliments when I was walking down the street after my facial about my radiant skin.
Let me take a minute to say that I have heard of the magical P50 product from Biologique Recherche but I'm always skeptical of certain raved-about skincare items. However, when Danuta used this product on me, I was literally glowing. She even applied the P50 (or the "magic potion" as she calls it) to one side of my face before she applied it to the other, just to show me the before and after difference and how much it had plumped and lifted my skin. I.Was.Shocked.
Here is the full breakdown of products she used and the order in which they were applied:
It has been exactly one month since I got this facial and I have had no problems with my skin (no joke). I have been using the Biologique P50 toner lotion and the Valmont Prime Renewing Pack religiously and I have watched my skin transform. I'm also a big moisturizer fan and Valmont products are my new favorite to get that hydration my skin needs. As I said, I'm a skeptic and I really haven't seen this great of results with anything else I've used. I know my favorite products and I love to stick to them. However, I made an exception when I saw these immediate results and, after 4 weeks, my blackheads have visibly decreased and my skin is way more even and hydrated.
If you're ever in NYC, I highly recommend going to Rescue Spa. And if you can splurge, try to get some time with Danuta and if not, the rest of their staff is also fabulous. It goes without saying that I'm already saving up for my next visit. Their regular facials are reasonably priced in comparison to other spas in NYC, so seriously there is no excuse not to go.