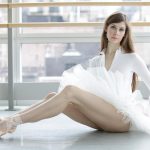 Mary Helen Bowers is the founder of the incredibly popular Ballet Beautiful, a ballet-inspired fitness company which offers workouts designed to help create the long, lean physique of a ballerina. Mary Helen has managed to grow her business exponentially in a short period of time--Ballet Beautiful has members in over a hundred countries training daily, including Victoria's Secret Angels, actresses, and more. Contributing to the program's massive success is its monthly custom workout subscription, which allows members full access to online videos, and two new workouts every month. Our excuses for not getting active daily are starting to dwindle--especially since Mary Helen manages to stay healthy, run a worldwide company, and also raise three young daughters. Below, this ballet businesswoman breaks down what she eats in a day, to give us inspiration to power through our own wellness goals.
Breakfast
What I eat: Slow-cooked oats with fresh blackberries and raw almonds and a coffee with whole steamed milk. 
The time I eat it: 8am.
How I make it or where I get it: I always try to keep our fridge stocked with fresh fruit! I buy old-fashioned oats at our local health food store and top with raw nuts for extra protein and fat.
Snack
What I eat: An organic apple and full fat yogurt topped with unsweetened applesauce. 
The time I eat it: 11:15am.
How I make it or where I get it: We stock the Ballet Beautiful studio with fresh fruit and full-fat yogurts for quick, energizing snacks.
Lunch
What I eat: Large cup of chicken and vegetable soup with half of a sandwich with roasted turkey, arugula, and avocado on whole wheat bread.
The time I eat it: 12:30pm.
How I make it or where I get it: There is a soup stand around the corner from our studio which I absolutely adore! They have soup, small sandwiches and wraps, and fresh juice. For a treat I sometimes indulge in their potato chips!  
Snack
What I eat: Organic pear and cheddar cheese.
The time I eat it: 3pm.
How I make it or where I get it: These are also items that we keep stocked in our studio for pre-and post-workout fuel!
Dinner
What I eat: Baked chicken with garlic and mustard, sautéed spinach and roasted sweet potatoes with a green salad with tomatoes on the side. 
The time I eat it: 6:30pm.
How I make it or where I get it: We made this at home! In the summer I love an entree salad for dinner but in the winter months I prefer cooked veggies. We try to make healthy, balanced meals for our family that the kids can also eat and enjoy. Our daughters are crazy for sweet potatoes and happily eat spinach so those are regulars in our house! 
Snack
What I eat: Dark chocolate and fresh organic strawberries with a glass of almond milk.
The time I eat it: 9pm.
How I make it or where I get it: These are some must-haves I always keep at home. I love having very dark chocolate as a sweet treat, especially with fresh berries. 
Workout from that day
Workout I did: Ballet Beautiful workouts! I had three private training sessions with clients today, and I always do the full workout with them. We are running a fabulous 2019 Four Week Ballet Beautiful Challenge right now so I incorporated exercises from our online workouts into my private training today. It is really fun to know that our members around the globe are all using the same program!
Time I did it: 9am, 10am, and 2pm.
Overall thoughts about your day today and how you feel:
Today was a pretty standard day for me, nutrition and workout-wise! My weekdays are typically pretty busy with training, running a business, and taking care of my three children, so it's important I make the time to fuel myself properly. I am still breastfeeding my youngest daughter, so I find that I have to drink a huge amount of water to stay hydrated and maintain my production and need to eat more protein, healthy fats, and carbs. After a day like today, I feel great – my body feels nutritionally satisfied, and I have the energy I need to tackle the day.  
What are other wellness activities or habits that make you feel like your best self? 
I really make an effort to put down my phone when I get home. When I am home with my family it is incredibly important to me that I am giving my children my full attention, and it is so easy to get distracted with my phone buzzing nearby. It can be tempting to check on things at work if I have my phone on me, and I want to be fully present with my girls and absorb everything going on with them – they really do grow up so quickly I don't want to miss a thing!
Anything else you'd like to add 
Throughout my years working with a variety of different clients, I have found that every body is really so different and individual – there is no "one size fits all" for nutrition and exercise! I try my best to listen to what my body is telling me; when I'm hungry versus tired, when I'm full, when I need to take a break and rest, and what kind of fuel I need to keep up my energy. I feel differently on different days, depending on the amount of physical activity I do, sleep I have gotten, how much I've breastfed, etc. so each day requires a different eating regimen and schedule. It is important to be flexible and loving towards our bodies. I want Ballet Beautiful to be a source of happiness, good health and empowerment for our members.