Mar. 22 2019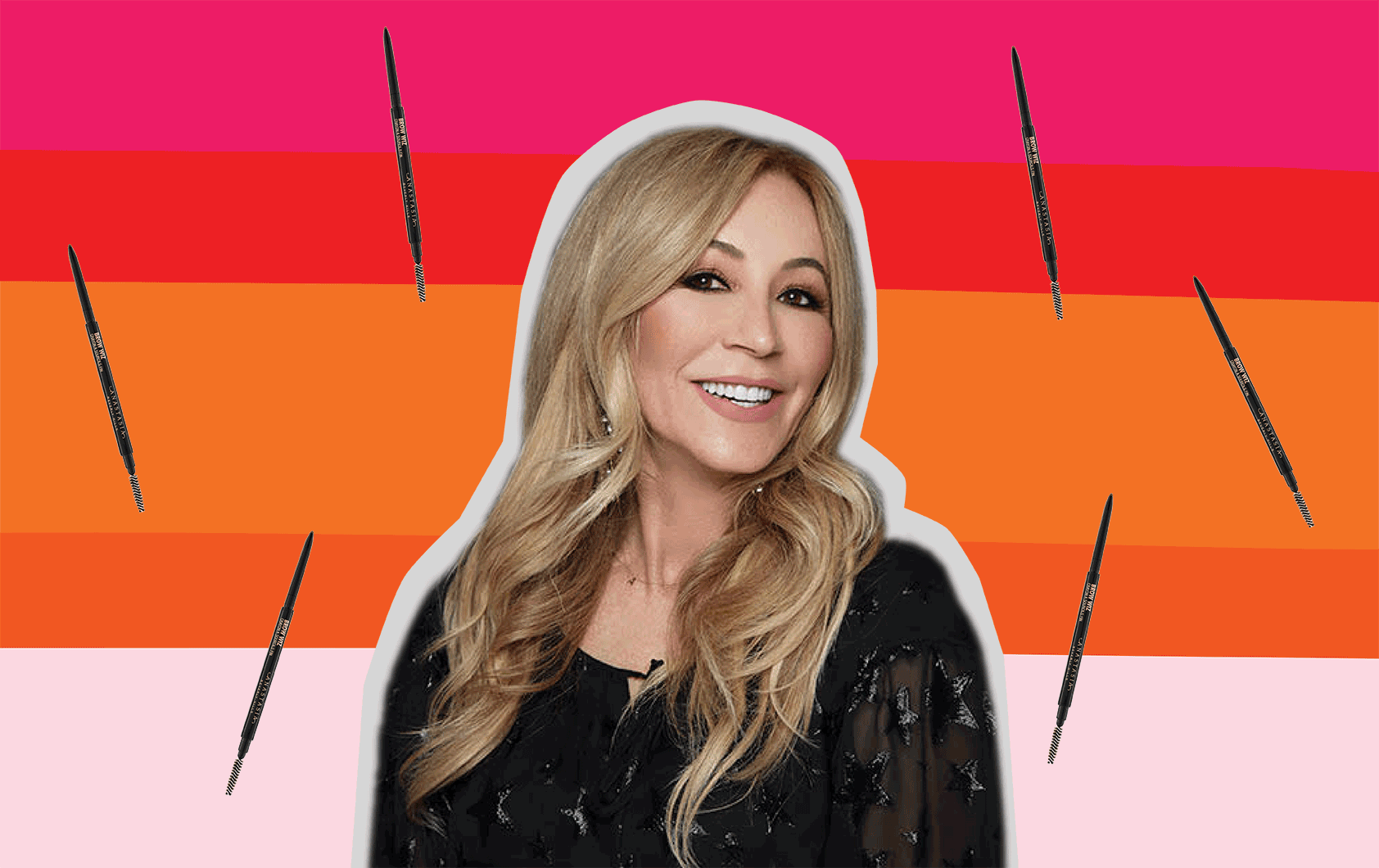 Continuing our Ulta Beauty x Newsette programming, we are proud to present the morning routine (yes, a rare "Morning Routine" feature on a Friday!) of self-made billionaire Anastasia Soare of Anastasia Beverly Hills. Born in Romania, Anastasia was an aesthetician in L.A. when she realized that eyebrows were an under-exploited element of the face. She soon became famous for shaping eyebrows in accordance to a client's bone structure, renting a room in a Beverly Hills salon, then eventually running her very own storefront, with first clients including Cindy Crawford, Naomi Campbell, and Jennifer Lopez. And the rest is history. Nowadays, Anastasia is very accurately known as the "Eyebrow Queen." Anastasia Beverly Hills is sold in almost 2,000 stores around the world, including Ulta Beauty, and has a brand so powerful that it boasts one of the most popular Instagram pages in the beauty industry, with 19 million followers. And, perhaps most impressive, Anastasia still owns 100% of her company, making her one of the most successful entrepreneurs on the planet. Below, this beauty mogul tells us everything she does in the morning before embarking on a busy day. First, though, we couldn't help but ask the Eyebrow Queen herself how she uses her own product in the A.M.
The Anastasia Beverly Hills Brow Wiz is one of our favorite products! How do you use it?
The Brow Wiz pencil is one of ABH's best sellers, and it's easy to see why. It is the companion to every perfect brow, handling both shading and fine detail. To create your own perfect brow, start by outlining the overall shape. Next, use the pencil to fill in areas of sparseness, continuing to apply in tiny, hair-like strokes. The thin tip of the Brow Wiz grants unparalleled precision, creating a texture that mimics your own natural brow. To finish, use the spoolie end to blend throughout. If you want to set your brows for the day, follow up with Anastasia Beverly Hills Clear Brow Gel.
7:30 A.M. I wake up every day around 7:30 A.M. and immediately think — "The day doesn't have enough hours! I need to get started now!" Out of both habit and necessity, the first thing I do is reach for my phone and check Instagram. Anastasia Beverly Hills has such a strong community on the platform, and seeing the way young people are responding to and using our products is a constant source of inspiration. It's exactly how I want to begin my morning. I keep excessive electronics out of my bedroom — no radio, no television — but my phone never leaves my side.
7:45 A.M. I tackle my overflowing inbox while I make my coffee. Currently, I'm doing the Keto diet, so that means adding butter and XCT oil. It keeps me full and energized, and this is all I'll eat until I break for a light lunch at the office. Over the dose of caffeine, I answer emails about upcoming meeting agendas, press requests, and general operations for the brand. I'll also throw on and listen to some jazz, typically Miles Davis.
8 A.M. I have a personal trainer come to the house 3 to 4 times a week. If it's one of those days, we'll get started at 8 A.M. I'll pour over the menu when I go out to eat, reading about all the delicious pastas and desserts — but then I'll end up ordering the same boring fish. That's what I do to keep up with my wellness while out, but jump starting my body in the morning through movement is what I do while at home.
9 A.M. Starting at 9 A.M., I'm sufficiently energized and ready to hop on phone calls. Once I get to the office, I'm usually in meetings for hours, so it's nice to have this time to devote to conversation before both my mind and body are pulled in a million directions.
9:45 A.M. At some point, I always make time for reflection. My day gets so busy, and these slow mornings getting ready, organizing my thoughts, and allowing for quiet moments of inspiration have become my ultimate respite. I don't think I could sit still long enough for traditional meditation, but taking a few minutes to look out at the view and take a deep breath — that I can do.  
10 A.M. Around this time I'll start to get ready. In the shower, I'll use a body wash, and follow that with body lotion. I'm also a fanatic about skincare — I love to layer products and make sure my skin is soothed, taken care of, and a ready canvas for makeup. In the day ahead, I may have an interview, a video shoot, or have to run to a dinner directly from the office. This means I almost always have to be camera-ready.
10:20 A.M. I don't like to feel rushed when applying my makeup. If I ever am pressed for time, I always make sure to get to lips, lashes, and — of course — brows. I get asked all the time about my brow routine. The way to start, and I can't stress this enough, is making sure your brows are the correct shape for your face. The Golden Ratio Shaping Technique uses a series of three measurements that tailor your brows to your unique bone structure, and this creates both harmony and balance. Once you have the correct shape, then move next to your products. My go-to for the outlining of the shape, shading, and adding in detail is Brow Wiz, and I never leave home without it. I'll then go in with DIPBROW Pomade to add individual hair strokes in areas of sparseness. If I need to clean up the edges, I turn to the ABH Pro Pencil, which also pulls double duty as it highlights the brow bone. Last, I set my brows with our Clear Brow Gel to keep them locked all day long. These are the products I reach for most often, but everyone is different. Try new things, see what you're comfortable with, and customize your own routine. And stop over-tweezing!
11 A.M. My last step is choosing what to wear — always harder than it sounds. My parents were tailors, and by spending time in their atelier, I first learned what the right cut and proportion could do for a body. I never buy something just because it's in fashion or because I saw it on someone else. I only wear what works for my body and my personal taste.
11:30 A.M. By now, I'm likely out the door and heading to the office. Our corporate headquarters is always a busy, bustling place with a seemingly never-ending list of things to get done. But I love the work. I think I actually need the work, and that without it I would be like a plant without sunlight. And when you love what you do, it honestly feels like you never work a day.
What was your favorite part of her routine?