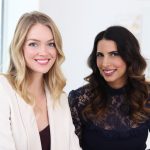 Lindsay Ellingson and Divya Gugnani are the co-founders of Wander Beauty, the cruelty-free beauty brand with a cult following. Found on retailers like Sephora, Nordstrom, and Net-a-Porter, Wander Beauty has a range of multitasking products designed to work almost as hard as the women who use them. Before becoming Creative Director of Wander, Lindsay modeled for more than ten years, walking in shows for designers including Chanel, Galliano and Christian Dior, as well as being named a Victoria's Secret Angel. After thousands of hours in makeup chairs, she was inspired to start Wander Beauty with Divya, a serial entrepreneur and CEO of the business. Besides being at the helm of a successful beauty company, Divya also loves to cook (she even attended culinary school at the French Institute), and spend time with her two children. Below, these two inspiring entrepreneurs tell us how they prepare for a busy day of work. 
7:00 A.M. 
Lindsay: I'm not one to hit snooze. I wake up, usually to my cockapoo Carly burrowed under the covers next to me, and get right out of bed. Make a coffee and large glass of water with lime, and then take Carly for a walk. If I have a few minutes to spare, I'll sit by the water near our apartment and think about five things I am grateful for. I'll also take some time to dive into my calendar for the day to see what's on the agenda, and set some goals for what I'd like to get done.
7:30 A.M.
Lindsay: Once I'm back in my apartment, I put on our Baggage Claim eye masks and turn George Winston on, on my HomePod. I'll make a smoothie (with almond butter, strawberries, almond milk, raw honey and kale) for breakfast, and clean up my kitchen a bit. Having a clean kitchen is my version of making my bed each morning.
Divya: Get the kids ready for school and make sure their lunch and homework is packed! Do a double-check to make sure my son isn't sneaking the iPad on the bus – Pokémon cards only! Drink a full cup of ginger and lemon water. Lemon is anti-inflammatory, packed with vitamins, and with compounds that prevent cancer. Ginger helps with digestion and gets your metabolism going. Start answering the mountain of emails, I always like to empty my inbox from overnight overseas emails before I get to the office.  
8:00 A.M.
Lindsay: I do a lot of our product shots at my apartment, and early morning is the best time to capture that perfect light. Once I do some shooting, I'll also do a bit of editing while emails are still quiet.
8:30 A.M.
Divya: Get ready to head to the office. Under-eye concealer is a must for all of the late nights. Dualist Concealer is my favorite because it's the only thing that covers up the discoloration under my eyes and the redness around my nose. Whip up a green smoothie (with lots of kale, chia seeds, flax seeds and yogurt!) to energize for the day.
8:45 A.M.
Divya: Finish up the morning calls and the green smoothie. Hop back on email to answer the few stragglers before throwing on some sneakers and heading out the door. I pop some pumps in my purse for my afternoon meeting. Comfort over fashion… only when commuting.
9:00 A.M.
Lindsay: After shooting content and editing, I get ready to head into our office. While I get ready at my vanity, I'll shoot more lifestyle product shots as I go through my routine. My beauty look is uncomplicated: I always (always) fill in my brows with Frame Your Face Micro Brow Pencil, apply our Nude Illusion Foundation, swipe on our On-the-Glow Blush and Illuminator on cheeks and lips, and load up my lashes with our Unlashed mascara.
Divya: Jump on the train downtown to the office!
9:15 A.M. 
Lindsay: If I'm heading into the office to shoot content, I'll keep my outfit effortless and comfortable. Put on my ripped jeans, an oversized sweater (my favorite is from Acne), low heels, leather jacket and mini cross-body bag and call an Uber.
9:30 A.M.
Lindsay: While I'm en route, I catch up on emails, our team's group chats, and Instagram. As I scroll, I'll favorite anything that inspires me to reference later.
Divya: Finally get downtown and grab some breakfast on the walk to the office (sometimes it's a chia pudding, sometimes it's mushroom pizza or an egg and cheese sandwich – don't judge). Arrive at the office and grab a glass of water. Even if my breakfast choices end up being questionable, it's important to stay hydrated!    
10:00 A.M.
Lindsay: Arrive at the office and dive into work. What I'm focusing on changes every day: sometimes it's shooting creative assets, other times it's product development, and some days are spent in back-to-back meetings. Getting to work on so many different facets of the brand is what keeps me excited to go to work every day.
Divya: Get to the office and do my deep work. This is time I block off to work on intense projects that require concentration, since my brain is fresh and clear in the morning. Touch base with the team regarding any pending questions or active projects. Prep for any upcoming meetings or calls.