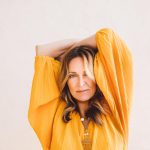 Suzy Batiz is the CEO and creator of Poo~Pourri. If you don't already know, Poo~Pourri is the toilet spray that went viral through a series of hilarious YouTube videos–and has sold over 60 million units worldwide. Now that's a lot of bottles. For Suzy, success came after years of hardship. It was after her second bankruptcy that she decided never to do anything that made her unhappy again. Soon, the idea for Poo~Pourri was born…and now, without any debt or investors, the company is worth $500 million. Following her enormous sales, Suzy recently launched supernatural, a non-toxic, aroma therapeutic household cleaning line. She shares that, "most days, I am either at the office, in meetings, guiding the vision behind the two brands or on the road giving talks to budding entrepreneurs on how to develop their internal GPS system (their intuition!), tune into what they want, and ignore outside chatter! I am super passionate about the topic of personal growth and believe that my business and creative output is a reflection of my internal self. So, I spend a lot of time working through any blockages and continuing on my growth path by working with therapists, mentors and spiritual experts." Below, this inventor tells us what she does in the early hours of the A.M. 
5:00 A.M. I live in a historic church that was converted into a home, so without me even opening my eyes, there's an element of spirituality present that I consciously incorporate into my day. My alarm goes off at 5:00 A.M. and immediately I have a cup of tea to get some warmth into my body and start the day. My secret tea: I use a blend of wild blueberry leaves, oat straw, nettles and jasmine dragon pearls laced with lots of Sun Potion, depending on how I'm feeling (Reishi, Cordyceps, Ashwaghanda) as well as Royal Maca, marine collagen peptides and Laird Hamiltons Creamer (OMG dreamy!!). This is a serious ritual. Immediately after, I meditate for an hour. It's my time to center and focus on me, tuning out all of the outside chatter and opinions. These are my two non-negotiables, my grounding practice, that happen no matter where I am in the world. If I sacrifice my tea and meditation, the whole rest of my day is wonky. 
6:30 A.M. After I'm done meditating, I write for about 30 minutes to an hour every morning. I don't spend too much time thinking about what I'll write, I just get down what comes to mind. It's become a therapeutic exercise for me but also one that brings up some exciting ideas that I didn't even realize were inside of me!  
 7:30 A.M. "I have to do how many burpees?!" is definitely what I'm thinking on most of the 6 days per week that I work out with a trainer. Half of the days I practice yoga and the other half I do a cross-fit style HIIT workout. When I practice yoga, I begin by wiping down my mat with supernatural Counters and Granite. This formula actually works on all non-porous surfaces as an all-purpose cleaner so it's perfect for my yoga mat! Not only does it clean, but the aroma therapeutic benefits energize and focus me. The HIIT workouts are a more recent addition to my routine, after the director for the Amen Clinics told me that they've noticed the most changes in the brain from Crossfit, because it raises your metabolism 24 to 36 hours (read: a lot more oxygen is getting to the brain!) after I got a brain scan with them. It got me thinking that I should also be focusing on my brain as an organ, not just for psychological healing. I began exercising for my brain health, just as I do for my heart and other organs in my body.  
8:30 A.M. I've finished my workout and start to get ready for the work day. I'm a huge fan of Epsom salt that I lace with many essential oils and add to my baths both morning and night. If I could live in water, I would. I also love goop Body's "The Martini" emotional detox bath soak which helps with all the inner processing I do almost daily. Then, I'll get dressed in something casual before I head to the office. We keep it casual so every employee can truly be themselves. Most days, I'll throw on a dress from R13, HVN or Isabel Marant, or a pair of Adaption jeans with a RE/DONE tee and blazer. I almost always slip on a fun pair of boots… we are in Texas, y'all!
Before I head out, I eat protein and fiber for breakfast. Usually something like nut butters mixed with flax seeds, coconut, honey, and whatever else seems yummy. Other days, I drink a smoothie. 
9:15 A.M. I'm all ready and head to my car to head to the office for executive meetings and brainstorms that start around 10 A.M.!
*Somewhere in here, I'm inevitably using the bathroom and of course I spritz the bowl before I go! Lately, I've been gravitating towards the wood sage and sea salt scent of one of our newest products, PRIVY. I love the high-grade essential oils in it but also that a portion of the proceeds support NCADV; a cause very close to my heart.