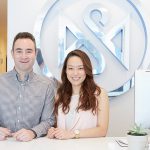 Cindy Kim and Matt Maroone are the founders of Silver Mirror Facial Bar, NYC's destination for results-driven facial treatments. Using the industry's leading products and technology, their estheticians help clients achieve not just glowing skin for a few days–but a healthy skin habit. Our team recently visited Silver Mirror's luxurious new Flatiron location (with some readers) and let's just say…we're hooked. Cindy is a former Team USA skater on the Synchronized Skating Team who loves traveling and Matt is the former VP of Marketing for SRC/Universal Records. Talk about a dream team. We chatted with these two impressive founders to find out how they wind down after a jam-packed day. Find their nightly routines below. 
6:30 P.M.
Cindy: I eat dinner early in the evening, around this time if I can. Of course, it doesn't help living in New York with all of the great restaurants to try, friends to see, and nighttime meetings or calls. But when I can, I really do try! As I get older, I find that eating earlier helps me sleep better and feel more energized in the morning, so there's a lot of motivation for me to make this more of a routine.
Matt: The end of the day is when I can finally focus on the important tasks I've been putting off throughout the day. It's also the start of our busiest time at Silver Mirror, so it's important to make sure everything is going smoothly at all of our locations. By 6:30pm (hopefully), I've arrived at home, my dog Lincoln is attempting to speak broken English, and my wife is narrowing down our Postmates dinner options.
7:00 P.M.
Cindy: Having wind-down time is an especially important part of the day for me. I'll usually settle into my night by catching up on some reading, watching a mindless reality TV show (yes – I am guilty of watching anything on Bravo), or calling my friends and family. Call me old school, but there's still nothing like having a good phone catch-up with a friend.
Matt: I'll watch a TV show (only with a Metacritic score above 70) or sporting event  while occasionally checking emails. I have a few art projects in circulation that take my evening focus in a different direction. It's important to have non-Silver Mirror passion projects and hobbies – I encourage my team members to do the same.
8:00 P.M.
Cindy: I'm a nighttime exercise person. It's definitely not for everyone! I'll fit in a workout around this time when I can. Exercising helps me stay in shape and makes me more mindful and centered for the next day. Every day as an entrepreneur can be hectic and unpredictable, so having the stamina and the focus to get things done is super important.
Matt: Around 8pm, I get back to work. I'll work on Silver Mirror projects, check in on the facial bars and catch up on business. We close Silver Mirror around 10pm each night to make sure late-working New Yorkers can fit a facial into their busy schedules.
9:00 P.M.
Matt: My mind is very active at night, so I need to force myself to start winding down around 9pm. Taking a shower at night feels like a barrier between the work day and when my mind needs to slowly wind down. In the shower, I am always listening to an audiobook (biography, business book or history) or Marc Maron's WTF Podcast.
Of course, my post-shower skincare routine is crucial to looking twenty-one for the rest of my life. With the help of our Silver Mirror team, I'm aiming for a Benjamin Button approach to aging.
I start with Sanitas Moisturizing Cleanser rotated with Sanitas Lactic Cleanser. Then I use different combinations of the following:
I look younger just from writing that list.
10:00 P.M.
Cindy: Time to start getting ready for bed. My nightly skincare routine varies depending on the season and what condition my skin is in, but there are a couple of products that I absolutely cannot live without. One of them is the iS Clinical Pro-Heal Serum and the other is the Revision Skincare Hydrating Serum.
Matt: I'm usually rotating between 3-5 books in the same sitting; a mix of non-fiction, fiction and graphic novels.
I have a series of sites and blogs I read before bedtime that involve pop culture, music, politics, and the daily cry fest also known as South Florida sports. There is nothing better to bore you to sleep than Miami Dolphins news.
Time you go to bed:
Cindy: At 11pm I'm in bed, but still on my phone watching Youtube videos or scrolling through Instagram. Why not look at dreamy pictures of vacation spots before you sleep, right? I try to limit screen time, but this goes on for a while until my eyes start closing and my phone falls on my face, reminding me with a jolt that it is now time to sleep. Good night!
Matt: Midnight.