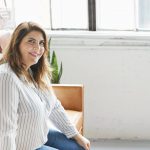 Katie Sturino is an incredibly popular body positive influencer/advocate/entrepreneur, and mom to famous rescue pups @DogMeetsWorld. She is also the founder of the women's personal care line Megababe Beauty. With almost a million followers on her combined Instagram accounts, Katie has cracked the social media code while staying true to her mission of "putting positive energy out into the world, whether that is by helping a woman on her own self acceptance or raising awareness about animal rescue." Below, this multi-talented boss tells us how she winds down after a typical workday. 
6:30 P.M. I'm winding down my workday or I am going to a workout class. I've recently started hosting classes with my friend Hunter McGrady called BabeBody, where we encourage women of all body types and fitness levels to try out workout classes that they have been previously intimidated to try. We host them after work hours so everyone can join, so around this time I am Babe-Bodying or starting to think about dinner…
7 P.M. I am at home eating dinner either made by my lovely fiancé or ordered on the Caviar app (they take all my money). I order from Jack's Wife Freda a lot. I love Greek and Mediterranean food. I find that most things don't deliver well…but I order constantly. Oh well! This is a great time to hang with my fiancé after a long day. We get up early and he leaves by 6am every day! Nighttime is really our time to be together. I don't have any set plan for what to eat during the week, but I try to keep it relatively healthy and save the pizza delivery for Saturday night.
8 P.M. I am on that couch!!! My fiancé and I are separated all day so when we get home we love to watch TV. Is that bad? I don't feel guilty about it at all because I think I am a content snob for the most part and I don't rot my brain on reality TV unless it's 90 Day Fiancé. We love documentaries and we try out anything that is getting buzz. Our rule is we will give something 15 mins…if it doesn't grab us at all in any way, we leave. There is too much to watch to waste any time on bad content! I actually freak out about wasting TV time. I do not like to watch things I do not care about.
8:30 P.M. By this time I try and put my phone on the charger. My nightly post usually goes up between 7:30-8pm so by this time I do not want to be on my phone…but that doesn't mean that I can easily give it up! Sometimes I want to refresh my post or look at comments but I really try to get away from my phone at this time. For me, I can feel a little crazy if I am just scrolling through my phone and watching TV at the same time. It's like I am not doing either very well. One of my solutions for this has been to keep my hands busy! Coloring books, Joanna Czech facial roller…if my hands are doing something else, I don't try and scroll! 
9 P.M. My brain turns off. Without fail. Every night. I can't process questions. My speech pattern is slower, my eyes are blurry and I am OFF FOR THE NIGHT. This has been my pattern for the last few years. I used to stay up until 12am every night with no problem, but if I am home and on the couch, I am getting sleepy.
9:30 P.M. I head to the bathroom and start my face routine. I check my phone. I get the gate up for the dogs. By 9:50pm I am heading into the bedroom…I KNOW! This is so early! But my fiancé gets up at 5:50am every day and I am an early riser as well (hate sleeping in). We really get a lot of sleep even though he never thinks we get enough (he naturally loves to sleep in). He will go right to sleep but I host a small after-party for myself and watch something calming on Netflix. Usually a house special or a nature special. I get sleepy again in about 3mins and I am off!! zzz zzz zzz