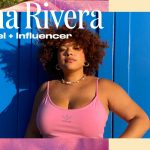 I wasn't seeing anyone who looked like me, dressed like me.

That's what Ana Rivera (she / her) noticed before starting her Vogue-worthy Instagram page. The Brooklyn native was bigger and brighter than most women on her feed, so as a bonafide fashion fiend, she decided to fill the void herself. And while her wardrobe might seem out-of-reach for a fresh college grad, Ana can lean on Affirm's buy now, pay later payment options to afford pricier, but oh-so-worth-it investment buys—and spread out those payments over time.

Together with Affirm, we asked Ana how she makes space for herself in the fashion world, builds a look from scratch, and what 1 item she can't live without (spoiler: she chose 3).
Why did you become an influencer?
I'm a recent grad from FIT. A big part of school is starting to figure out who you are, what your style is, and finding yourself. I am a woman of color, a plus-size human being, and a lot of the things I wanted to do, I wasn't seeing on my Instagram. That's really it. I love color, I love patterns, I love to mix and match them. I wanted to create a space for myself where I could be seen.
What's your relationship with fashion?
With my personal style, I've really tried to dress with no boundaries. A big part of why I'm so adamant about what I wear is because growing up, being the bigger person, I felt like I had to limit myself in my style [to] conform to a certain type of look. I had to wear a lot of baggy clothes. I have nothing against neutral colors, but very rarely will you catch me wearing them, because they remind me of what I had to wear. And now [that] I've embraced who I am and my style, it's definitely on the brighter side.
How do you decide which items are worth splurging on?
I'm big on thrifting—especially being plus-size, sometimes options are limited in-store. But when I make a big purchase, I think of it as an investment. How can I use the same pieces season after season, rather than, "Okay, these shoes are cute for summer?" It's more of a, "Okay, you need thigh-high boots. What color can we get that's going to [last] towards fall, spring, and all the seasons?" I plan that out in my head, put the payment down, and eventually pay it off.
What are some of the best things to buy with Affirm?
I love my gold necklaces, and you can use Affirm to get a bunch and stack them. Sometimes in college, you have other things to pay for to maintain yourself. Having a payment option that helps me stick to a budget where it's like, "Okay, I know I can get this. I can pay it off slowly," it's helpful. You don't feel like you're missing out on something you know you want. You get to indulge responsibly.
When you're putting together an outfit, where do you start?
I start with a strong color, build on accessories from there, and do shoes last. A monochromatic style is what I go for first, then if that's not working, I'll mix and match. For this look, I chose a brown neutral dress, because it's a really good fall color. Then I [add what] I call the "Ana Shazzle." Aka, "How can we bump this up?" I wanted to do more of the brown neutrals, so I chose these rose gold sneakers that have brown tones but still have pink.
What's your favorite athleisure look?
I definitely like 2-piece sets. They make things look way more put together. They're easy to style as well because you can layer jackets on top, dress it up—people even wear boots with theirs. A cool jacket and some funky sneakers, a little bit of jewelry, and some nice earrings? Cute outfit.
True or false: You're an Adidas fan.
Yes! I wore Adidas a lot in college. The all-star tracksuit? [Laughing.] I literally have pictures! I used to never take off the pink set. I wore that religiously, and I didn't take off my green Stan Smiths all throughout college.
What's the 1 thing in your closet you can't live without?
So hard! Okay, I have this pink blazer I love. I thrifted it a long time ago. I'm really a dress and sneaker kind of gal, so also these red-and-pink Adidas sneakers that I have worn a bazillion times. But if I had to choose, it would definitely be the pink-and-red Adidas sneakers. And the pink blazer. Also, my gold necklaces, because I wear them all the time.