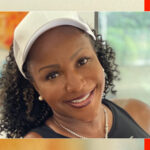 "When you show up, show up 100% you."

That's Kay Malcolm's (she/her) best advice for starting a career in tech. As a senior director at Oracle, showing up as Kay means playing dance music when Zoom meetings stall. But it's also about supporting the next gen. That's why she posts insider tips on YouTube, runs a podcast (Lashes. Love. Tech) about WOC's stories in the field, and personally mentors Gen Zers for free.

We spoke with the "hip hop engineer" about how she got her start and why she's so passionate about supporting marginalized communities.
When did you first become interested in STEM?
If you are the child of a Nigerian father, you've got 3 choices: doctor, lawyer, or engineer. Period. I was supposed to be a lawyer because I'm a big talker, but on Star Trek, one of my favorite shows growing up, there was an engineer. Geordi La Forge wore a banana clip as his visor, and it was the first time I'd ever seen a Black person portrayed as an engineer. I started wearing banana clips in my hair and decided I wanted to be an engineer. I had no idea what they did, but I was like, "Eh, I'll try it."
How did you go from engineering to tech?
I majored in electrical engineering and got an NSA scholarship to the University of Maryland. The thing was, I had to work there for 5 years after college, but as I was starting to travel, I decided I wanted to move. Accenture was doing a job fair, and I got hired out of 500 people to be a consultant. I used a little bit of my electrical engineering, but primarily the coding side of [my expertise].
When did you decide you wanted to mentor POCs in tech?
I always found that in tech spaces, I was the only person who looked like me. I accepted it and learned to use those differences to bring different ideas. But as I progressed in my career, there weren't a lot of women being added to the fold behind me. When George Floyd was killed, I felt like I wasn't doing enough—that I was hiding and being safe. So I wrote an open letter to the VP of recruiting at Oracle [about a need to hire more WOC]. I took a screenshot of that letter and also posted it on Facebook.
How did you get the courage to do that?
At that point, I was a director of product management and I had just started in the new role. But my friend sent me that quote, "Well-behaved women seldom make history." Oracle is a largely male company, but in my office, I've got pink walls; I've got my lipstick pillow. You see Michelle Obama and Beyoncé. I'm not trying to out-man the men, because the world needs women's POVs.
What's a common misconception women or people of color have when entering tech?
They think they've got to change themselves to fit into the culture they're entering. What I tell them is that it isn't true. Be your whole, authentic self because people buy from people that they like. You're what's going to help these companies innovate.