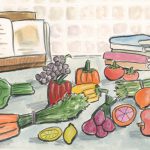 Winter can seem like the worst season for wellness and beauty, with all of your favorite tropical fruits out of season and your skin feeling dry, cracked, and dull. But the below-freezing temps can actually yield foods that are wellness and beauty boosters, to help you get that glowing complexion and flat tummy you've been craving. In the spirit of making the most of the icy weather, I've made a guide to help you take advantage of the winter foods that not only are naturally grown (and therefore, taste the best) in colder months, but can inject that effortless, natural beauty back into your skin and hair.
Cranberries:
You'll typically only find these tart berries readily available in stores from October through January/February, so don't miss your opportunity to take advantage of this beauty food. The skin contains anthocyanin pigments which assist cells in producing and protecting collagen, lowering inflammation, and reducing redness and irritation in both skin conditions like rosacea and in breakouts. If you need any more reason to try cranberries, other chemicals contained in the fruit increase skin's UV tolerance and assists in blood flow, which gives you a radiant glow and bright complexion. 
Kale: 
The list of beauty benefits for this leafy green is even longer than your holiday shopping list—it's loaded with antioxidants, vitamin A, vitamin K, vitamin C, potassium, magnesium, and calcium, all of which promote healthy and hydrated skin, hair, and nails. It also has a high sulfur content, which helps to reduce redness and flakiness in skin. And kale is able to tolerate frost, so fresh and delicious kale is available at your fingertips (or grocery store) throughout the entire winter.
Matcha:
While it's not necessarily just a winter food (since its available year-round in powder form), winter is the perfect time to add the concentrated green tea into your daily routine. The powdered beauty food delivers an amazing amount of antioxidants, which helps protect skin from a range of environmental disrupts like UV rays, pollution, and yes, even the intense cold wind that parches your skin of essential nutrients and hydration.
Pears:
This cold-weather fruit has a ton of pectin fiber, which detoxifies the body and supports digestion, getting rid of any toxins or impurities in our body that might be showing up on our skin. This fiber also slows the release of sugar into your blood, which is a great thing for your skin, since sugar spikes can damage collagen production (and undoubtedly happen often from all the sugary treats of the season). Phytochemicals in the pear's skin helps reduce any inflammation in the body, and red-skinned pears are high in anthocyanins which protect skin's elasticity, reducing fine lines, wrinkles, and cracks from dryness.
Try: Slicing it up and pairing with your favorite nut butter as a snack, serving it as a fancy appetizer at your holiday party, or poaching it for a delicious dessert.
Butternut Squash:
This popular fall produce is rich in beta-carotene, which the body uses to produce the sebum that keeps hair and skin hydrated and moisturized. It also has a lot of vitamin C, which we know and love as the collagen-boosting vitamin, as well as plenty of potassium and fiber that detoxes your body and helps digestion.
Radishes
High levels of the beauty minerals sulfur and silicon, combine with vitamin C to give skin, hair, and nails an amazing beauty boost, and protects from oxidative damage caused by free radicals (which results in fine lines, wrinkles, age spots, brittle hair and nails, etc.). The main ingredient of radishes is water, so it keeps your body super hydrated. Since they stimulate the liver, the small root veggie also encourages blood circulation (aka that radiant glow we strive for), and detoxifies the body (say goodbye to impurities and toxins that show up as acne or dryness in your skin).
Try: Slicing them up and tossing on your salad, pan-roasting them to replace your breakfast potatoes, or adding them to your open-faced sandwiches for an Insta-worthy meal.