Mar. 7 2018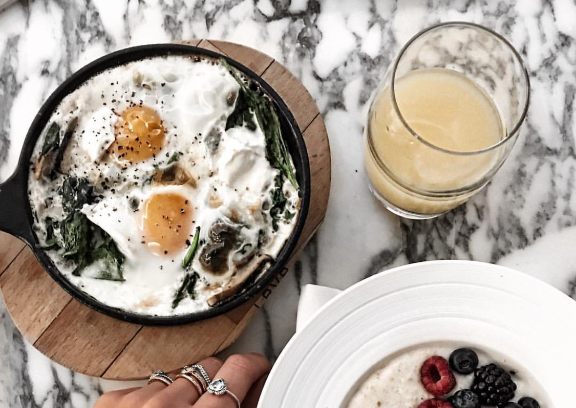 When you only have thirty minutes between the time you wake up and when you rush out the door, it's easy to just grab a granola bar and call it breakfast or wait in a Starbucks line for 15 minutes just to grab a latte and a croissant. Either option won't give you the fuel you need to conquer the day, which will leave you starving and sluggish (and stomach growls don't count as feedback during morning meetings). A good breakfast should keep you energized, full, and set you up for a productive day. Scroll down to see our favorite breakfast ideas that are quick, easy, and delicious.
The Apple Sandwich 
You can't go wrong when combining sweet apple, energizing almond butter, and filling granola. Simply core and slice one apple into rings, slather on some almond butter, sprinkle granola over the almond butter, and top with another apple slice. Repeat the process until all of your apple rings are used up.
Egg Whites + Toast
A hot meal in under five minutes? Count us in. Whip up Rosie-Huntington Whiteley's go-to breakfast by heating a pan over medium heat, adding three egg whites and 1 tbsp of unsweetened almond milk, and cooking for five minutes. Top with fresh basil, salt, and pepper. Then, toast up a piece of bread (we like whole wheat) and add the eggs on top.
Chocolatey Almond Smoothie 
Have a sweet tooth? Instead of reaching for a donut, mix up this quick and easy smoothie instead. All you need is 1 cup of vanilla almond milk, 2 TBSP of almond butter, 1 TBSP of unsweetened cocoa, 1 banana, and 1 cup of ice. Blend until smooth and enjoy on the go.