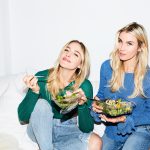 The first step to living a healthier lifestyle is committing to it–the second is figuring out which approach you're going to take. Sakara Life founders Whitney and Danielle believe that the best way to improve your metabolism, mood, skin, and digestion is a plant-based diet. Below, the duo shares why they firmly follow this method, how to live by their core wellness values on a budget, and why you don't need a business degree to start a mega-successful company.
NEWSETTE: Why do you think consuming a plant-based diet is so important?
Food is information, and when we eat, that food breaks down and can either help with the synchronicity of our bodies, or confuse signals and hinder our bodies from performing.