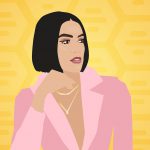 Making the first move in your career, love life, or when forging friendships can be intimidating. Luckily, there's a highly-curated and safe platform that makes it easy to take fate into your own hands to land that dream job, relationship, and bff. Bumble is the revolutionary app that lets users connect with confidence, allowing busy women everywhere to use tools like Bumble Bizz to find interesting and motivated people to network with, hire, or even work for. For the month of January, we've partnered with Bumble on a 4-part series highlighting women who made the first move in their careers, and ended up as the main characters of major success stories.
This week, we're chatting with global style influencer Brittany Xavier, who used her passion for fashion and business savvy to grow an audience of over 1 million followers on Instagram alone, as well as forge lucrative partnerships with high-end brands such as Cartier, YSL, Givenchy, and more. Below, Brittany shares why industry relationships are key to success, how she knew when to #MaketheFirstMove, and her advice for anyone interested in starting a blog or business.
Bumble was created to help women make the first move, whether it be to find a romantic relationship, meet new friends, or expand one's professional network. Why are relationships important in the business of blogging?
When I started out blogging having friends in the same industry was extremely helpful – we were able to bounce ideas off of each other, travel together, brainstorm and more to grow our businesses. It's extremely important to always surround yourself with a network of people who are encouraging you to be better.
In 2013 you #MadetheFirstMove by starting your blog, and have since worked with the world's biggest brands and recently even designed a holiday collection with Macy's. What advice would you give to young women who want to start a brand or company, but don't know where to start?
Oftentimes the desire for perfection can delay taking action. With my blog for example, it was a super simple format at first I really didn't know what I was doing with it but knew I wanted to write and share my life. Think of the first step and just get it done. Try not to get overwhelmed with the big picture, otherwise you may never do it.
Oftentimes the desire for perfection can delay taking action.

Not only did you quit your job to focus on your blogging business, but your husband also left his career to join you. Did deciding to work together change your relationship? How do you navigate working with your spouse? 
Yes! We started it together actually, he helped me build the website and took all my photos. When he was still working and I was getting even busier with jobs and deadlines, it came to the point where I either needed to hire someone full-time or he needed to quit and help me. We put everything on paper and it made more sense for him to quit. He was traveling so much with his full-time job before too so that really freed him up to work on the business side of the blog and helped me push it to where it is today. We were always working together from day 1, now he just didn't have to do it late at night after work.
Who are three women who also #MadetheFirstMove in their careers and inspire you? 
What Jessica Alba has done with Honest Company is truly inspiring–balancing family and business. Sara Blakely, founder of Spanx, risked it all because she believed in something so much and it paid off massively. Emily Weiss, founder of Glossier, was never afraid of hard work.
What advice do you have for our readers who are using Bumble Bizz to find connections in the blogging world? Who should they be looking to connect with? What professional relationships are important in the world of blogging and social media? 
Having a network of likeminded professionals is an immensely helpful support system to share experiences, brainstorm, and inspire one another. In the world of blogging, photography is key; finding someone that is aligned with your work style and aesthetic is really important. PR firms and fashion houses are also immensely important to interface with on a regular basis. Networking is the epicenter of any business, especially blogging.
Ready to find photographers, blogging buddies, and brand partners? Get on Bumble here.