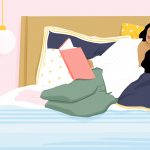 On any given work day, your schedule can be crammed with back-to-back meetings, too-tight deadlines, and putting out fires with the superhuman strength you didn't even realize you possessed. We career-focused women give our all every day we step into the office—so we deserve to feel serene once we get home after a hectic schedule. With blissful relaxation in mind, we've partnered with Leesa—the award-winning direct-to-consumer mattress brand with over 13,000 5-star reviews—to create a guide on three easy ways to turn your bedroom into an oasis that is sure to help you de-stress after even the most jam-packed day.
1. Fill your room with sleepy scents.
There's nothing worse than finally getting to bed and not being able to drift off into dreamland. To ensure that you don't toss and turn with thoughts of the following day's deliverables, introduce all-natural essential oils into the bedroom that you can breathe in while reading a book or finishing last-minute emails (if you must). The soothing properties in oils like Ylang-Ylang, Roman Chamomile, Cedarwood, and Lavender will not only help you ease into sleep, but also aid in relieving stress and anxiety. Bonus tip: Spray one of these oils on a pillow like this cooling memory foam one for an extra boost of relaxation while you snooze.
2. Find a mattress that resembles a cloud.
If there is one single item that can help you get the best zzzs of your life, it's your mattress. And if you find yourself enjoying your naps on the couch more than sleeping on your bed–you probably need a new one. Because your mattress isn't just the place you lay your body on for eight (okay, six) hours a night. It's truly the heart of the home–and where you enjoy midnight Netflix sessions, read your favorite glossy magazines over a cup of freshly-brewed coffee, cuddle with your pet or baby, and FaceTime your loved ones with one sleepy eye open. And those activities sound like qualities of an oasis to us. If you're looking to upgrade your mattress, Leesa's high-quality, cooling, and contouring (yes, contouring) offering is a no-brainer. Not only is it insanely comfortable (so much so that over 13,000 people have raved about it with 5-star reviews), but its Queen size is affordably priced at under $1,000 ($845 for a limited time only). Instantly make your room an oasis here.
3. Brighten up your space.
Turn your bedroom into a Pinterest-worthy serene haven by livening it up with fresh flowers, bright decor accents (lilac pillows anyone?) and a few picture frames (or even a photo collage) filled with people who make you smile. Too eager to wait until you can stop at the store this weekend? Brighten up your space today by de-cluttering your corners and putting everything except the items you use on at least a weekly basis into storage or the trash bin (we're looking at you, year-old pile of magazines). Just removing clutter will instantly transform your space, and up-keeping the cleanliness on a daily basis through a five-minute cleaning session will ensure that it always stays minimalistic. Because why wait until spring to clean?