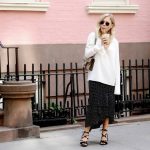 I know, I know—the idea of giving up your Skinny Vanilla Latte or 3 cups of morning coffee might be enough to make you stop reading. But while coffee has antioxidants that are good for us in moderation (meaning one cup, and no added sugar–"Skinny" or not!), our bodies should not rely on caffeine for energy, or be so addicted to coffee that it's hard to get energy sources elsewhere. Molly Rieger, of the nutrition site Molly's Best, and nutritionist for many VS models and A-list celebs alike, makes sure to keep her energy stabilized and high throughout the day (just imagine the energy you'd need to keep up with Karlie Kloss!). She has go-to pick-me-ups and energy boosts that are healthy for body and mind. Read on for her healthy tips on keeping your energy up. And don't worry—she still drinks the occasional cup of coffee!
NEWSETTE: What do you drink in the mornings?
MOLLY: The first thing I drink is a cup of warm water with freshly squeezed lemon, a tbsp. of apple cider vinegar, and chopped fresh ginger. This is a gentle way to wake up the digestive system, help your liver with detoxification, and flush out excess water. With or without breakfast, I'll either have coffee with soy or oat milk, or an almond milk matcha latte.

NEWSETTE: What food do you rely on to give you energy?
MOLLY: I rely on meals that combine protein and fiber for maintained, steady energy throughout the day. I know that when I eat simple carbs, my energy levels become a roller coaster and I start craving even more sugar or carbs.

NEWSETTE: What drinks do you rely on to give you energy?
MOLLY: Water! I drink at least 3 liters of water a day. Dehydration causes feelings of lethargy and fatigue along with constant sugar cravings. I limit myself to 1 coffee per day (before 3pm). If I am especially tired, I'll have green tea or matcha in the afternoon for a pick me up. On travel days, I pack E-Boost to put into my water—it contains a mix of vitamins, minerals, and green coffee bean and green tea extract. It really gives you a jolt if you need it!

NEWSETTE: What's your go-to pick me up when you're feeling sluggish?
MOLLY: Many of the times I start feeling sluggish are when I've been sitting by my computer for a long period of time. I'll make myself get up and go for a 5 or 10-minute walk to get my blood moving, and drink a cup of water. That always helps! And limiting sugar really prevents that sluggish feeling.

NEWSETTE: How else do you ensure that you have enough energy throughout the day?
MOLLY: I recently attended a reiki certification course with reiki master Kelsey Patel, and part of my daily work is a "morning activation." This morning meditation truly energizes me for the day. I used to wake up feeling extremely depleted and groggy, and now I get out of bed feeling excited for the day! I highly recommend her online course, mindbodygreen!

NEWSETTE: Favorite recipe for a warm drink (and to replace that 2nd cup of coffee)?
MOLLY: I absolutely love hot chocolate. Four Sigmatic makes an amazing Reishi Hot Cacao Mix that I love with almond milk!