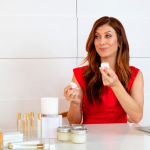 Kate Walsh is the actress you know and love from hit shows like Grey's Anatomy, Private Practice, 13 Reasons Why and, most recently, Netflix's The Umbrella Academy. She is also starring in the upcoming films Sell By and Honest Thief. In addition to being an extremely successful actress, Kate founded Boyfriend, a direct-to-consumer lifestyle brand that offers BPA-free, cruelty-free perfumes, candles, and oils. Talk about being a true multi-hyphenate. Kate admits that she's "obsessed with self-care," adding that "it's so important to a person's well-being, which is why I'm excited to share my morning routine secrets and tips with Newsette readers." We know you're excited for this one, so let's get to it--read all about this star and entrepreneur's A.M. rituals below. 
8:00 A.M. The first thing to greet me in the morning is usually my alarm — which is always changing daily depending on the project. If my alarm is set for 4:45 A.M., you can definitely count on the fact that I'm not waking up early to work out, but I am definitely going to try and get as many elements of my health and beauty regimen in as possible, however random it may be. Trying is the key word. Be flexible and do your best, and your morning will set a great precedent for the rest of your day. 8:00 A.M. is usually the latest I will sleep in until — even though I may not get the chance too often. However, I do always make sure I'm getting a full 8 hours of sleep. Regardless of what time I wake, every morning of mine absolutely starts off with some coffee, it's truly what I look forward to the most.
8:15 A.M: I jump-start my metabolism so I am often inclined to grab some sort of shake or supplement right as I start to get ready. Breakfast is one of the most important parts of your day (bet you haven't heard that one before), but I'm personally not hungry first thing in the morning so other than coffee, I will have an Ensure max protein drink to make sure I get my protein allotment straight away. I'm also into products that contain Coq10, especially ones like Goop's Glow (which also acts as my first skincare step of the day). I tend to be on set really early most days, so having something that's quick and easy completely changes the course of my day.
8:30 A.M: If I don't have an early call time to be on set, I use this time to check my emails to handle business. The Boyfriend team is in Los Angeles, so I'm able to send them questions, feedback, and updates first thing before they're even in the office. This helps us maintain a steady flow of communication and alignment of priorities regardless of time zone.
8:45 A.M: One of my favorite, and most vital things I do to keep a sane mind in the morning is what I like to call purge writing. I grab a scrap piece of paper and take a few minutes to myself to just jot down any random thoughts — ideas, worries, memories, or anything else that comes to mind. Once I've gotten it all down on paper, I take a good look at it and then toss it right in the trash. It's my own way of clearing out my mind and pushing a sort of internal restart button — allowing me to take on the day with a fresh new outlook. I do also try to meditate as often as possible, whether it's taking a few minutes of silence to myself (if I'm on set) or rolling out and stretching the tight muscles in my body (if I'm at home). I think it's incredibly important to be adaptable when it comes to meditation, as each morning is always slightly different.
9:00 A.M: I take care of my skin. I carry around a 1/2 gallon water bottle w/ lemon slices and apple cider vinegar. The most important part of my skincare regimen is moisture, moisture, oh and then more moisture. I am a stickler about putting moisture balms and tinctures on before I go to sleep, allowing me a healthy and replenished surface to work with in the morning. I struggle with super dry skin, especially during the winter, and I find that this treatment helps to not only rescue my face, but lock in moisture all over my entire body. I love hyaluronic acid, which is why we included it as a key ingredient in Boyfriend's new Hand & Body Crème (it truly is amazing and really locks in the moisture!). If I have a little extra time to in the morning, you will most likely find me using additional serums to help treat other areas like my eyebrows and eyelashes.
9:30 A.M: I'm usually heading out the door at this time. One of my favorite on-the-go hacks for dry patches is the pocket-friendly Boyfriend Perfume Pulse Point, which I use on my wrists and cuticles and sometimes my hair — it has an almond oil base that just has this delicious, warm, and nuzzley vanilla feeling to it and gives my skin a natural glow. People always run up to me and ask what it is, and I couldn't be more proud to tell them that it's my own creation.
10 A.M: If I'm not on set and feeling productive for a workout, you'll find me at a ballet class, or circuit training with kettlebells, or maybe even some pilates. However, you can count on the fact that I'll be dreaming about lying in bed and having the ultimate lazy day routine.
11:30 A.M: After my workout, you'll find me in a pair of Uggs and a messy bun taking my dog Rosie on a walk. Simple joys like that — or having my best girl friends over for a chill day — is what truly makes me the happiest. I mean what sounds better than a morning with some hot tea, a warm fireplace and your friends all together?