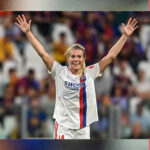 She's #Goals. Ada Hegerberg also makes them, which is why the world-renowned soccer player is the "all-time top scorer of UEFA women's club competition." That's an accomplishment that already made our jaws drop, but those bottom molars officially hit the floor when we found out she did all this after coming back from a 20-month break due to a ruptured ACL.

Here, Ada walks us through her mornings on days when she's not living our She's The Man dreams.
8 A.M. I'm very much a person that follows my sleep rhythm, so even if I have a day off, I tend to wake up at 8. If I'm having a really good day, I probably sleep until 9. I'll get up, get my proper Scandinavian-style coffee going—classic grain in your beans, pour over. I'm quite a hipster when it comes to coffee. I don't know how many coffee machines my husband and I have, but it's very important to us.
8:30 A.M. I make a good breakfast, either oatmeal or eggs on avocado toast. It's the greatest tip I got from my nutritionist. She told me to get fat, protein, and carbs in my breakfast, and avocado toast with eggs has it all. After breakfast, I put the dishes away ASAP. I need a clean house to have a clean head.
9:15 A.M. I have a little garden and a pool, so I tend to those. I wish I was good at growing flowers in my garden, but I'm not. I'm just trying to keep the yard in a good state. I feel like I've even killed some cacti, so that says a lot about me [laughing].
10 A.M. I crank up some music. I gave my husband a kicka*s vinyl record player for Christmas, and I just love to put on Aretha Franklin, Nina Simone, and all these cool women from the '70s and '80s. Sometimes I read, sometimes I do crosswords. I'm like a grandmother in my personal life [laughing]. In the world of football, it's all about eating right, sleeping, and watching football, so sometimes I need to get out of that bubble and think about other stuff in order to refocus.
11 A.M. My physical therapist comes over and gives me treatments. I came back from 2 very serious injuries, so for a while, it was all about maintaining my body. Now it's very much general massaging, getting through the muscles, and checking out if everything's fine. When he doesn't come over, I do yoga. I started yoga when I was injured and it relaxed my body, mind, and muscles.