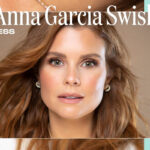 First, she's sour, then she's Sweet Magnolias. JoAnna Garcia Swisher is an actress who seems to be great at everything. Thrillers that haunted our 6th-grade spirits? ✔️ Single mom sitcoms? ✔️ Southern shows that melt our hearts? ✔️ (With some butter on top.)

Here, JoAnna walks us through her morning ritual, from how she gets Maddie Townsend's rosy skin to the podcasts that help her get settled before filming.
6 A.M. A quick shower is a must for me—it gives me that little pep in my step. For my skincare routine, I gently cleanse with my Lumi, then I tone with Shani Darden's Sake Toning Essence. I follow that with iS Clinical Pro-Heal, then some form of hyaluronic acid to retain moisture. Recently, I have been loving Supergoop's Hydra-Ceramide SPF. As my skincare settles, I give my eyelashes a light coat of ILIA Limitless Mascara and then I'm usually done.
6:30 A.M. It's off to the coffee maker! Breakfast isn't much of a thing for me, but I love my morning cup. I drink a strong mug of pour-over coffee with a shot of espresso, then a heavy splash of French vanilla creamer and a Truvia. I also try to have a huge glass of room temperature water.
7 A.M. I'm a fan of getting dressed first thing in the morning—even if I don't have plans to leave the house for a bit. I generally lean towards jeans and a t-shirt or a flowy dress. I would also be lying if I didn't say Covid really expanded my sweatsuit collection, and even though my youngest daughter doesn't think it's ok to wear them around town, I do and I love it!
7:45 A.M. My husband Nick and I always drive our kids to school around 7:45 A.M. I think rituals like these are very important. They ground me and make me feel like I'm ready for whatever the day brings.
8:15 A.M. I use the drive to work to get in the zone. I usually listen to a book on tape or a podcast. That quiet time feels like such an indulgence and leaves me with a clear head to take on the day. I recently enjoyed Spy Affair. It dives deep into the story of Maria Butina, a Russian woman accused of being a spy. I got my true crime fix from Culpable, and I think Justin Long's Life Is Short podcast is absolutely fantastic!