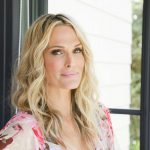 Molly Sims is a model, actress, author, humanitarian, influencer and busy mom of three. Talk about being a multi-hyphenate. After dropping out of Vanderbilt to pursue modeling, Molly took the world by storm, appearing in the Sports Illustrated "Swimsuit Issue," five times, premiering as an official spokesmodel for Old Navy, and becoming a CoverGirl model. On the acting side, Molly starred in all five seasons of Las Vegas, as well as films The Benchwarmers, Yes Man, The Pink Panther 2, and Fired Up. She also works as an ambassador for Operation Smile, and Population Services International Five and Alive. As if that wasn't enough, the star also started a jewelry line available at some of the biggest retailers in the country.

Most recently, Molly launched a personalization holiday collection with Rachel Miriam, which includes everything a person needs to host a party. Wondering how she does it all? Below, Molly takes us through a typical morning in her busy life.
5:45 A.M. Some mornings I wake up from the sound of an alarm clock, but I am often woken up by a foot or two in my face. My kids always find a way to sneak into bed with my husband and I, so I end up having a small corner of our bed to myself. Then I sneak into my bathroom to get ready for my workout.
6:00 A.M. I head downstairs, where I meet my trainer from Tracy Anderson Method or Dance Body in my home gym. I get about 20 minutes to train by myself before one of my kiddos interrupts and tries to join me.
7:00 A.M. Once my workout is done, I head to the kitchen and make a pot of coffee and my daily smoothie. I love making a delicious green smoothie to start the day and always use fairlife ultra-filtered 2% milk because it has 50% more protein, 30% more calcium, and 50% less sugar than conventional milk. An easy go-to recipe is nutritious milk, mango, pineapple, banana, kale and ice. I also add a scoop of collagen powder from Ancient Nutrition.
As I drink my smoothie, I cook the kids' breakfast. Some of their favorites are crescent rolls, cinnamon rolls and oatmeal, which I also make with fairlife because my son Brooks is lactose intolerant and all of their milk offerings are lactose-free. Another one of our favorites is an asparagus and goat cheese frittata that is creamy and delicious. It's a healthy choice for breakfast and also makes for an easy and satisfying lunch or light dinner, when served alongside a salad.
7:30 A.M. Next, I run upstairs and I'm lucky if I can get in a quick 2-minute shower without interruptions. I have mastered the ability to take the fastest shower that's humanly possible and still get clean.
Then I hop out and do my quick skincare routine. First, I cleanse with Mary Kay Facial Cleansing Cloths. Then I tone with Biologique Recherche Lotion P50 PGIM 400… I truly think this toner has changed my skin texture and tone for the better. Next, I apply iS Clinical's ProHeal Serum Advance Plus, followed by Retrouve's eye cream and Barbara Sturm's Hyaluronic serum. Lastly, I put on the most important step— sunscreen! I love Supergoop's!
7:45 A.M. By now I'm in the car with Brooks, my oldest, taking him to school. My husband stays home with the two younger kids, Scarlett and Grey, when I'm on carpool duty.
8:00 A.M. I head home after sending Brooks off to school and catch up on all of my emails and phone calls while I let Scarlett and Grey play around in the backyard.
8:30 A.M. Since Scarlett doesn't go to school until noon, I have the entire morning to spend with her and Grey. Some days we'll go for a walk on our block and some days we'll go play at the park. It really just depends on their mood and what they're feeling.
10 A.M. Every day is different! There are some days where I have meetings with my agents and then others when I have events for brands or friends. It's a rare day when I get to work in my office but when I do, I am grateful. By 10 A.M. I've had two glasses of the Master Cleanse from Kreation and am still sipping on my coffee with a splash of Fairlife ultra-filtered 1% milk. I don't love the taste of coffee so the added splash of milk always helps and allows me to savor it throughout the morning.