Mar. 29 2019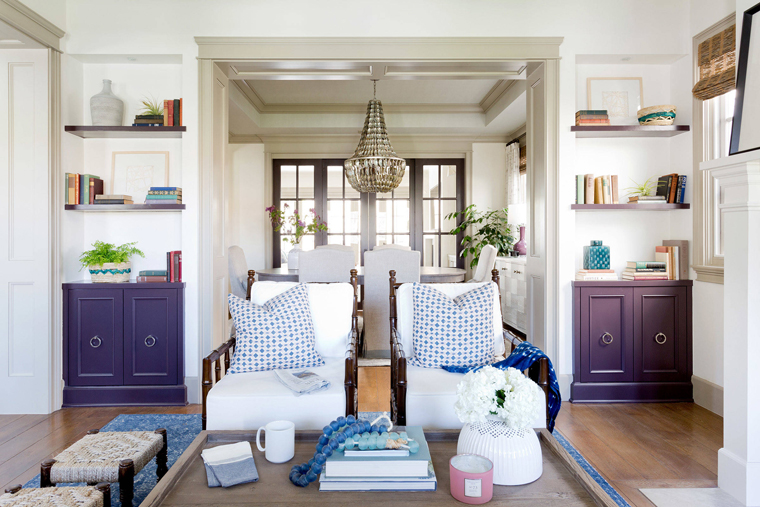 Do you spend your days scrolling through Pinterest for throw pillow and wallpaper inspiration? Do you dream of creating a beautiful space for yourself, but don't have the funds to do so? You're not alone! To solve this common problem, we spoke with L.A interior designer, Kate Lester, and asked her to give us 5 tips for creating a beautiful space without breaking the bank.
Kate Says…
1. Pull out those throws and towels and put them on display (I'm serious!). Drape them over the back of a solid sofa, or on a ladder as décor. Ladders are like the most underrated accessory in the design world. I once bought a 12-foot one at a flea market and tied it to the roof of my car to get it home, but I digress. I always find vintage ladders at the flea or vintage shops and want to buy them all. So, if you have one, pull it out of the garage and then lean it in a corner and let those throws and towels shine!
2. Go pillage your neighborhood or backyard for some greenery and make a fabulous arrangement to display. I cannot tell you how many times I have done this (like, seriously, I can't- because I might be arrested). I am currently unsure of the statute of limitations for snipping greenery from a neighbor's yard or public park so just trust me and try to stay on your own property. 
3. Hop online and download printable art! Every time I am close to a deadline for a project install and missing some art- I thank the internet Gods, and get my download on. There are literally like a billion options out there and some are even (gasp) free! Other favorite sites are Etsy and Juniper Print Shop. Pro design tip: if you have any, print the art on watercolor paper. It adds a little texture and a more luxurious feel to the piece. 
4. Use your hats as décor! I actually did this in my OWN home, so it must be a top-notch interior designer trade secret. My personal suggestion is to arrange a grouping of straw hats in all shapes and sizes. It adds depth, dimension and texture to a wall without spending a dime. Also, I swear I wear my hats more often now since they are all out on display for me to see!
5. Rearrange your furniture. Nothing says "I am fierce, fabulous and need a change" than a good ol' room rearrange. Re-orient a sofa to face a window or fireplace, or create a small seating area or reading nook where there was not one before. This will absolutely encourage you to read more and become immediately smarter and more attractive. You're welcome.