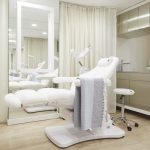 Ever wonder what we're up to over here at Newsette HQ? We're always busy planning cool, unique experiences for our Newsette Network members, and we want to let you in on all of the fun things we do every week! Need some convincing to join the Network? Check out our roundup of all the activities our members enjoyed this month – and some inspiration to sign up!
Hearst Panel: We were extremely excited to host a panel event featuring some of our favorite editors from Hearst magazines! The network had the opportunity to hear from editors at Cosmopolitan, Seventeen, Women's Health and Elle, who discussed their day-to-day duties as well as how they landed their dream jobs, all while sipping on Trés Chic Wine and delicious food from Fairway Market. Stay tuned to hear more from these editors and the specifics of how they got to where they are today!
Silver Mirror Facial Bar: New studio alert! Silver Mirror Facial Bar opened up their second studio in NYC in Flatiron and the Network was lucky enough to be some of the firsts to try out this new luxurious spa. Upon arrival, you are welcomed with a fresh and airy atmosphere. They make the check-in process extremely painless for you with iPads to input all your information on. The front desk personnel were extremely friendly and punctual as they brought us to the back for our personalized facials. The technicians asked a series of questions pertaining to our skin care routines and past skin issues, if any and then got started on the facial! They started with a mask, then a scrub and then used high frequency to get rid of any bacteria. Afterward, they used steam and oxygen and finished with a vitamin serum. I left feeling relaxed, refreshed, and with that new face glow. If you haven't already, we highly recommend booking an appointment!
Box & Flow: Our members enjoyed a box & flow session. Sick of the same fitness class? If you're in the market for a new and fun exercise, Box & Flow is the one to try. This is the perfect mixture of intense and relaxing. Have you ever taken a yoga class but felt like you didn't get enough of a workout? Or taken a boxing class, but felt like you weren't relaxed afterward? Box & Flow is the solution! This half boxing half yoga class, Founded by Olivia Young, is inspiring and will leave you feeling empowered to conquer your day.
Fit Club NYC: We had the pleasure of speaking with Dr. Kellen, Founder of Fit Club NYC, who spoke to the Network about fitness, nutrition, and the importance of recovery. We learned about what foods are best for your body and what helps you heal the quickest. Afterward, we received sports therapy massages from Dr. Kellen himself, showing us how important it is to take care of our bodies. Keep your eye out for Dr. Kellen's 5 foods for healthy recovery.