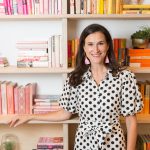 Lydia Fenet is the Managing Director and lead benefit auctioneer for Christie's Auction House. Besides her coveted role at the prestigious firm, Lydia has raised over half a billion dollars for over 400 non-profits worldwide as the leading benefit auctioneer in the country. And, if that wasn't impressive enough, she also wrote the hit inspiring book The Most Powerful Woman in the Room is You. This boss and avid runner grew up in Louisiana, but has called NYC her home for twenty years. She lives in Tribeca with her husband and three kids. Curious to know how Lydia conquers her morning? She shares her collaborative, Starbucks-filled morning routine below.
6:30/7:00 A.M. I was never a morning person until I had children. Now I find myself naturally waking up around this time if the kids haven't already come in early and whispered "mom, can I cuddle?" We all get up as a family at 7:00am to start getting ready for school, but I love when one of them finds their way into my arms a few minutes early for a snuggle. I am a very light sleeper so I rely on a white noise machine. One of the first things I do when I get out of bed is turn off the sound machine and open the blinds. It immediately kickstarts my day!
7:30 A.M. My husband and I are knee-deep in the breakfast routine/getting ready for work routine. We take turns making breakfast, packing lunches, getting the kids ready while alternating getting ourselves ready. On days when one of us has an early meeting, the other one fills in. We are a great team, which is really important when you are both working. No matter how much time we give ourselves, there is always a moment where we realize that one of us is supposed to be walking out of the door with our oldest daughter in three minutes and we go into overdrive.
7:45 A.M. My daughter and I leave the apartment by 7:45am and take the subway up one stop to her school. People always ask me how I live in New York with kids, but everything is so convenient. I also love the physicality of life in the city – walking everywhere, up and down subway steps. I hate sitting in traffic so we usually take the train, which means we are always moving–and we can spend a little extra time together. A few days a week we pick up her friend who lives two doors down. There is a Starbucks at the end of my block so I use the app to pre-order Starbucks and pop in to get it as we walk to the subway. I am not a breakfast eater–I don't wake up hungry–so a large latte gives me the boost I need to start the day. I let the girls sprinkle in a little sweetener and stir it so that they get the foam on the sticks. We call them magic sticks and we play a game running down the street to the subway where we use the stick to make the other person freeze in their tracks.
 
8:30 A.M. Parents are allowed to stay in the classroom until the bell rings at my daughter's school, which allows you to ease into the day and also gives my daughter a chance to show me what she is working on at school. A few days a week I leave and hop back on the subway to work, but two days a week as soon as the bell rings, I sprint to the Equinox next door.
8:45 A.M. I am on the treadmill doing a very quick run to squeeze in a little exercise. During weeks when I don't have any extra time or I have a lot of late auctions, and don't want to get up super early to exercise, I will go for a quick run after drop-off, before I get to the office. It isn't ideal, but it's something, and something is better than nothing! If I don't stop at Equinox, I am already at my desk.
9:30/9:45 A.M. By this time, I am in the office either meeting with my team or returning e-mails or calls that came in overnight. I have a hard time sitting down and watching TV, so at night if I don't have an auction and my husband is watching something on TV, I will usually sit next to him and respond to my emails so that I don't feel completely behind in the morning. I love the mornings at work because everyone is fresh and focused. As a working mom, I am constantly looking at the clock to ensure that I can get everything done before picking up my daughter from school. I typically write down a full schedule of the day the night before so that I can stay on point even if unexpected things happen over the course of the day. I truly believe that happiness comes from feeling in control of your life and, for me, feeling in control is being proactive instead of reactive about the things coming my way. That also allows me to keep my eye on larger goals that I want to achieve in my life.