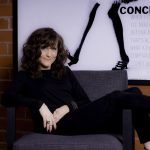 Lisa Roth is the Vice President of CMH Label Group, an independent record label in the Silver Lake area of Los Angeles. She's also the co-creator and brand manager of Rockabye Baby, an internationally-known music series, featuring lullaby renditions of the world's favorite rock, pop, and hip-hop artists. What started off as a unique idea to market radio hits to parents and children now has over a hundred artists in its catalog, including Taylor Swift and Lady Gaga. Surprisingly, before starting her business, Lisa was a nutritionist, then became a segment producer for Discovery Network programming. So how did she break into the music world? "I was introduced to the owner of our label 15 years ago, and somehow talked my way into a job offer…as often happens," she tells us. Lisa adds, "I had no 'discernible' skills to work in the music business. In fact, on paper I've never had the requisite qualifications to pursue any of my careers. But I'm an active listener and often hear what's not being said, and a problem-solver." We asked Lisa to tell us how she makes wellness a priority when working in the music industry. She lists her best habits below. 
Bad habits you've cut from your routine?
1. I stopped drinking water out of plastic bottles.
2. I'm working on letting go of delaying the things that bring me joy. Instead of eating cupcakes from the bottom up, and saving the frosting for last, I now eat the frosting first. Sometimes I'll have two cupcakes and ONLY eat the frosting. I stopped waiting for special occasions to wear my favorite shoes. I use my favorite dishes for every meal.
3. I'm learning to be the last to speak, and to edit what I say and how I say it, as I'm often impatient and compelled to share my insights without gift-wrapping (let me put it this way, Anna Wintour is my spirit animal).
Good habits you've added?
1. I invested in a countertop water filtration system. I say invested because they're expensive, but in the long run, far cheaper than buying water in bottles, and far more eco-friendly. We have to protect our earth and our critters.
2. I've been doing Transcendental Meditation for the past 2 years. The 4-day training took me 20 years to complete (better late than never), and it has truly enhanced my life. I considered myself self-aware, however, for the first year of meditating it was like a veil or fog was lifting that I didn't know was there. The clarity was sometimes painful, but the awareness was an opportunity to make changes and to grow
3. Learning to say no.
How do you take care of yourself throughout the day?
1. TM in the morning and afternoon. It energizes me and helps focus what I call my monkey mind.
2. I make sure I get my fill of nature daily, it feeds me. Otherwise I get a little depressed and my energy wanes. I work in an office during the week, so I walk outside throughout the day, come rain or shine. At lunch I go for a walk around the hilly neighborhood behind the office. We are right around the corner from the Silver Lake reservoir, which is like a huge, beautiful lake, seagulls and all.
3. I make sure to tend to some of my introvert tendencies by closing my office door and working with minimal interruption and stimuli.
Are there any activities or hobbies you do to help de-stress?
1. I love to move. Movement of any kind is my happy place. I've studied different disciplines of dance most of my life, so moving is like oxygen. I'm currently taking Bar Method, which I really like–the level of difficulty and the concentration required to do it correctly is reminiscent of years of ballet class. I enjoy the familiarity.
2. If I REALLY need something mindless to de-stress and detach, I catch up on the Housewives (with a little preference for New York and Atlanta!).
How many hours of sleep do you get a night?
I don't sleep nearly enough, maybe 5 hours a night, if I'm lucky, and as we learn more about the importance of sleep, it's an area of concern. When I worked in television years ago, I did a segment on sleep, and had the opportunity to talk with several sleep specialists. I learned good sleep hygiene, which I still implement – I go to bed at the same time each night, my room is dark and the temperature cool, I wear earplugs, and I try not to eat or drink a couple of hours before bedtime…now, if I could just get the falling asleep and staying asleep part down, I'd be golden. I've been trying different supplements like 5HTP and magnesium. I tried melatonin, but hallucinated there were ducks walking across the windowsill of my 12th floor New York apartment.
Do you have a favorite wellness trend?
The word trend evokes something that's current and a little impermanent. I tend to be attracted to wellness practices that are fundamental so to speak, that address root causes, bottom line truths and issues. When I was a nutritionist, I was less interested in the latest diet, and more interested in helping people get to the root cause of their eating disorder, or weight gain and so on. Saying that, I guess psycho-therapy would be a favorite wellness practice vs. trend. I think everyone should do it. Personal insight and self-awareness are key factors to living a healthy, fulfilling life, and are the foundation for empathy and the ability to give back. And lord knows the world could use more of that these days.
 
What is your favorite healthy food?
I happen to love everything considered healthy, like veggies, dark leafy greens, monounsaturated fats like olive oil, hempseed oil, avocado and so on. However, the healthiest most colorful foods can be a problem for people with specific sensitivities. They can cause skin rashes, headaches, stomach problems and more. My point is, I always tell people to educate themselves. Read about nutrition, and how the body works, and cultivate self-awareness, pay close attention to how you feel and what works best for you. And figure out the healthiest way to incorporate cupcake frosting into your diet as well as kale.