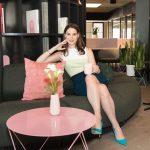 Kathryn Duryea Wyndowe is the Founder and CEO of Year & Day, a home brand selling beautiful tableware designed in California and made in Europe. Before starting her company, Kathryn received her MBA from Stanford, then began a career at Tiffany & Co. After a frustrating search for affordable, stylish plates, she found a gap in the market—and Year & Day was born. As CEO, she says "every day is different: from running the team to investor pitches, designing new products and building marketing plans." We asked Kathryn to tell us how she relaxes after a day of wearing several professional hats. She shares a typical night in her life below.
7 P.M. If I don't have a dinner out or event, I'm typically home from the office between 7 and 8pm. Before leaving the office, I wrap up emails and slap a post-it note on my laptop with 2-4 things that need to be wrapped up that night or the next morning first thing. I head home in an Uber and check Instagram and text with friends en route. We live a few doors down from an incredible wine shop, so I sometimes pop in and take their advice on what's good for whatever we're making for dinner.
8 P.M. If it's dinner at home, my husband and I trade off responsibilities: one cooks, the other sets the table and cleans up. We order meal kits from Good Eggs, which has the freshest local ingredients, and also sells fresh flowers. Right now he's in a cooking phase. I often order fresh flowers with our groceries, so I'll prepare and arrange flowers and set the table. I love setting the table and experimenting with different combinations of Year & Day's ceramic and flatware colors with my (small) collection of placemats and napkins. Right now my favorite combination is a tone-on-tone look inspired by our midnight plates, with a pop of color from our gold flatware.
We listen to a podcast while we prepare dinner and catch up on the day over our meal.
9 P.M. After dinner, we often unwind by watching a TV show or reading. Typically I open my laptop while we watch TV, which I'm sure is bad sleep hygiene but it helps me bang out the last emails and tie up the day.
10 P.M. I love a bath at the end of the day. I pour in loads of epsom salts and some baking soda, and sometimes a bath oil or bubbles depending on my mood. I relax, digest the day, and prepare mentally for the day ahead. I'm religious about my skincare routine and obsessed with Biologique Recherche products, so I do my evening skincare and get ready for bed.
11 P.M. A few years ago I got really into pajamas, so dressing for bed is a pleasure. My absolute favorites are by Olivia von Halle and come in beautiful silk prints. I slip into bed, check email one last time, and fall asleep immediately. I sleep nearly 8 hours every night.