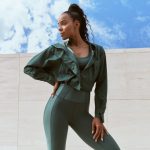 Kelly Rowland is a singer, songwriter, actress, and producer known for being part of one of the world's best-selling girl groups of all time, Destiny's Child. In her impressive career, she has sold over 30 million records as a solo artist, and 60 million records with Destiny's Child. She's also won four Grammys. No big deal. Since becoming a music icon, she's appeared on hit TV show Empire, was a judge on the eighth season of The X Factor UK, and also judged the third season of The X Factor USA. Nowadays, Kelly is a judge on The Voice Australia and has recently teamed up with Fabletics to create the Kelly Rowland X Fabletics collection, made with every woman in mind (especially moms). So, how does this multi-hyphenate start her day? Kelly shares her fitness-filled morning routine with us below.
5:00 A.M. Typically I get up around 5am when I'm on a strict workout routine. I try to get an early start so I can fit a workout in during my busy days, and/or squeeze multiple workouts into one day. The first thing I do when I wake up is wash my face, brush my teeth, take a shower, and then pick out my Fabletics gear. They have so many great options for different activities, so it really depends on what I'm doing that day. If I'm doing a HIIT or kickboxing workout, I'll reach for one of the PowerHold styles – right now, I'm loving the Fearless outfit from my Fabletics collection. It's a compressive PowerHold Legging with this beautiful, rich, Sycamore color, and I'll pair that with my Paige Sports Bra. Right before I leave, I have some oatmeal with raisins or a protein shake. 
6:00 A.M. By this time, I arrive to my workout, where my trainer kicks my butt. On most days, I train for about one hour. 
7:00 A.M. I am back in Los Angeles traffic. Once I make it home, I wake up my son, Titan, and get him ready for school. There's usually not enough time to change my clothes, so by this time, I still have my workout clothes on. To dress it up a little, I'll add a layering piece like a denim jacket or blazer. The outfit I chose this morning actually has this really cute Erika Cropped Hoodie, so I throw that on. I prepare Titan's breakfast and lunch and head out. 
8:00 A.M. I am now headed out to take my son to school.
9:00 A.M. Once Titan is at school, I'm typically on my way to meetings, appointments, or headed back home to do another workout. Usually, my second workout of the day would be pilates or yoga. I really like wearing seamless pieces for this – the Conquer outfit is currently my favorite. The High-Waisted Seamless Rib Leggings and Kelia Seamless Bra feel like a second skin – they're so easy to move in!