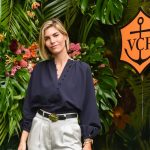 Delfina Blaquier is the co-founder of Àcheval Pampa, a fashion company that is best described as equestrian-chic, with pieces that are just as feminine as they are practical. Before becoming an entrepreneur, Delfina worked at top fashion houses like Ralph Lauren, and has been published in glossies such as Vogue, Vanity Fair, and W. A true multi-hyphenate, she is also passionate about and known for her modeling, photography, and philanthropy. When Delfina isn't working, she's traveling the world with her four children and polo star husband Nacho Figueras.

In a special edition of our morning routine segment, we asked this Argentinian equestrian to describe the morning of this year's Veuve Clicquot Polo Classic (the most recent taking place last Saturday in LA), which she participated in alongside Nacho. Find her beauty and polo-filled schedule below.
7:00 A.M. I wake up at 7:00am today and start to get ready for the day. I normally get up a bit earlier, but I like to get as much rest as possible before I play Polo, as it is a very strategic game that takes extreme focus and mental awareness. 
7:30 A.M. After spending a little early morning time with my kids, I get up and start my wash-hydrate-protect skin routine. I use several different products and love switching them around to make sure that my skin gets all the love it needs. I either use Dior Prestige Mousse, Caudalie Foam, or Tata Harper Clarifying Cleanser to deeply cleanse and create a clean canvas. I then use the Tata Harper Elixir Vitae and moisturizer by Beautycounter Countermatch Adaptive to keep my skin hydrated all day long. Lastly, I use Isdin Spot Prevent, which prevents age spots and super shields from the sun. I am going to be on the horse at 2pm, which is the worst time you can be exposed to the sun – I have to be prepared!
8:00 A.M. Nacho and I have Mate together, which is something we do every morning, no matter where we are in the world. Mate is like a mix of green tea and matcha, but provides energy like coffee to start our day. We pour yerba in a gourd with a metal straw and enjoy the little bit of down time we get to spend together.  
9:00 A.M. I put on a little makeup, but usually not too much. I like my skin to glow, especially when outside at events like the Veuve Clicquot Polo Classic, so I'll wear a little highlighter to capture the sun. I usually opt for MILK or even use Tata Harper Illuminating Moisturizer, which I absolutely love. I'll top it off with Tata Harper Lip and Cheek Tint in Very Popular to add a little natural color.
9:30 A.M. This is really when I start to get in the mindset for the polo game and I check to make sure that all of my equipment is ready to go. I have to change into my match outfit 30 mins before we get on the field, so I grab my jeans from Mother, helmet, goggles, kneepads, custom boots by Der Dau, gloves, mallet and a few other things I will need to play.
9:35 A.M. Now that my match gear is put together, it is time to get green-carpet ready! I like to be comfortable and stay true to classic polo style so I wear Acheval Pampa, a brand inspired by gauchos (skilled horsemen similar to the American cowboy) that I co-founded and helped launch. I wear the yellow Al Boleo Pant, Sun Belt, Yegua white blouse, and green Talabartera bag for the 12th anniversary of the Veuve Clicquot Polo Classic. 
9:45 A.M. I make one more cup of Mate, then it is time to round up the kids and head to the polo field! Nacho and I are playing together in today's match so we strategize a bit on the way to Liberty State Park and devise a plan for our 4-person team. We both feel very lucky to be able to do what we love with the people we love and get excited for a day of polo, friends, family, and of course, Veuve Clicquot champagne.