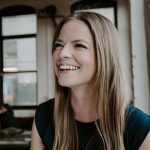 While you were watching The Bachelor (no shade!), Kinsey Grant was watching the stock markets. As The Morning Brew's business editor and the podcast host of Business Casual, Kinsey's job is to make the Asian Markets as interesting as a group date with too much tequila. But first, coffee.
6:30 P.M. Still in the office. Morning Brew's daily email goes out at 6 A.M. but it's primarily written the day before. Since there are no second chances with email (once it's out, it's out), we employ a *highly* meticulous fact-checking and editing process. I'm still working on putting my Saturday-night-out 1 A.M. texts through that same editing process… will get back to you.
7 P.M. We typically "set" the newsletter around 7 P.M. most weeknights. Once we get the green light, I'll head home—subwaying in the winter, but walking or biking when it's warm out. I do a 6 A.M. barre class near my apartment most weekdays, but it's nice to get a little activity during the evening, too. I'm leaving [the office] but I keep my phone on throughout the night to monitor any breaking news for the next day's send.
8 P.M. Home, where I immediately chug a glass of water. Then, depending on how tough my day was, I'll consider pouring a glass of pinot grigio (or honestly whatever I can find on the wine rack). I like to hang out with my roommates after work—we're best friends from college, and I always feel so fulfilled hearing about their days at work, their latest dating stories, etc. Plus, after a 12-hour day of writing, hosting, and editing, I'm so tired of thinking that all I want to do is listen.
8:30 P.M. Dinner. I know I should say, "I trim fresh herbs from my terrace garden to sprinkle atop a freshly baked salmon filet." But that… is not what I eat for dinner. I usually stand in front of the open fridge for 10 minutes before throwing together a simple salad. Either that or order something on Caviar. Because some days, you just need to order delivery from the place two blocks away, ya know? 
9 P.M. The best time of the day: pajama time. I'm a sucker for matching PJ sets and I firmly believe I sleep better when I have a cute set on. My favorites are Eberjey; no one does jammies like they do. (Yes, I said jammies. What of it?)
9:30 P.M. This is when I wash my face and start my nighttime skincare routine. When our podcast launched, I started breaking out from stress, and honestly, it sucked. Since then, I've become super strict in my nighttime routine. I've used Dr. Perricone products for years now—nutritive cleanser to wash my face, then the entire Pre:Empt series after that (pore refiner, skin perfecting serum, brightening moisturizer). Because this year has really been tough on the crow's feet, I use an eye gel my mom recommended—Youth Gems Eye Contour. I also swear by my Skin Therapy Wand, which [I use for] acne, discoloration and scarring, and anti-aging. 
10:30 P.M. After checking emails, Slack, and texts one last time, it's time for bed. I wake up around 5:30, so getting to sleep before 10:30 is a priority for me. Most nights, I try to put down my phone at least 20 minutes before I fall asleep. Those 20 minutes are usually spent reading—right now it's She Said, but I just finished Three Women by Lisa Taddeo, one of the best I've read in a while.